User talk:Kpulliam/Archives01
Jump to navigation
Jump to search
First 15 discussions moved here kpulliam 23:48, 17 August 2008 (UTC)
Welcome!
Hello, Kpulliam/Archives01, and welcome to the ISFDB Wiki! I hope you like the place and decide to stay. Here are some pages that you might find helpful:
I hope you enjoy editing here! Please sign your name on talk pages using four tildes (~~~~); this will automatically produce your name and the date. If you need help, check out the community portal, or ask me on my talk page. Again, welcome!
Two letters by Ackerman in Dec 1930 Astounding
On page 411 and 422? As soon as you find your way here you can answer on this page.--swfritter 16:49, 12 August 2008 (UTC)
No. Only one letter by Ackerman on page 422. I thumb fingered the submission the first time and thought the second submission would clear things up. I'm new to Wiki's. Am I really supposed to repond on 'my' page and not on a page of yours? I guess in the spirit of a message in a bottle, if you get this, please leave a message here to let me know I don't need to follow up further to delete the page 411 submission for the Ackerman letter. Kpulliam 01:57, 13 August 2008 (UTC)
Finding your way here quickly is a good thing, it helps new editors learn quicker. As for the letters I'll let Swfritter deal with them since it falls under magazines and I deal mostly with books and yes it's best to reply here, this way it keeps the questions and relies together. Click on "Recent changes" in the "navigation" box and you will see all the new postings in the Wiki. Again welcome to the ISFDB.Kraang 02:51, 13 August 2008 (UTC)

In many wikis, particularly very busy ones like Wikipedia, the custom is that you respond to a msg on your page by posting on the other person's page. This has the advantage that the other person gets an automatic notification that s/he has msgs, but it has the disadvantage that an exchange is divided between two (or perhaps more) pages. So on this wiki, to keep discussions together, we have adopted the convention that wherever a conversation is started, it usually continues. (sometimes when what starts as a personal conversation becomes of more general interest, it is moved to an appropriate public page). Some other wikis do the same. This is just a convention, but it seems to work reasonably well here. And welcome to you. -DES Talk 19:32, 13 August 2008 (UTC)
Argosy (and similar Magazines)?
Is there a particular reason that the early pulps are not included in the database? I am particularly interested in The Argosy, The Argosy Weekly, and The Argosy All-Story Weekly, but there are several other listed in the timeline here that do not appear in the database yet. Magazine:1920-1929
Thanks - Kpulliam 03:57, 13 August 2008 (UTC)
Good question. Here's a link to the database content policy. Also check out the rules of acquisition. To be more specific in answering your question, if a magazine had a majority of speculative fiction content, then it can (and probably should) be included in the database. The magazines you list appear to lean more toward the adventure genre, although that may include specific works of speculative fiction. Those stories might have been reprinted later either in collections or anthologies, thus being included in the database, with a citation in the notes about their first publication. This is the ideal situation, but it would vary because we depend on individuals to enter contents. If you have specific issues of those titles and feel strong enough that they should be included in the database (and are willing to enter their contents), I think most of the moderators would allow the non-spec-fic content. Looking at my copy of Ashley and Tymn's Science Fiction, Fantasy, and Weird Fiction Magazines, I see that those titles are listed, but with a caveat: "Neither The Argosy nor All-Story was a science fiction or fantasy magazine, and yet they probably influenced the course of science fiction more than any other magazine either within or outside of the field..." Pretty strong endorsement, I might add. MHHutchins 04:43, 13 August 2008 (UTC)
I don't personally have any copies of Argosy or it's follow-on publications, but there are some issues available online, notably 5 issues at the Internet Archive from 1922 (With Ray Cummings 'Fire People' which at the moment exists in the database but with zero publications listed which is what prompted the question to me in the first place) and a few more from the 1890s.
As above, it was the Ray Cummings entry Fire People and the magazine images at IA which started me wondering why the magazines didn't exist as entries. I've read the contents policy and I understand that the line must be drawn somewhere. But this line is very blurry. I've been using ISFDB as a look-up source for years, and I truly love the ability to provide updates when I find omissions, etc. This is one of those cases where because the magazine has been excluded (even in partial form) from the list of magazine indexes ISFDB Magazines that I was unsure how to get the info into the database. Kpulliam 05:14, 13 August 2008 (UTC)
There is a bit of history here. The original Rules of Acquisition (which are no longer accessible since most older versions of Wiki pages were dropped a few months ago to reclaim space) called for the inclusion of all non-genre magazines and anthologies as long as they contained any speculative fiction contents. We then quickly realized that if we entered all non-SF stories in Argosy, The Norton Book of American Literature, etc, we would end up with thousands of extraneous records -- and besides we don't support non-genre short fiction particularly well -- so we updated the Policy page to state that we should create abbreviated publication records for these books which would only include SF titles. That way we could still Verify them and perform other bibliographic operations.
Unfortunately, the Policy text was not very clear (my fault) and in many cases the original publication data was recorded in the Notes field as opposed to a separate Publication record. I know that I used Notes numerous times simply because it was faster and I figured I would come back to it and create a new record... some day. Over time, this approach has become more popular and I assume that some editors took it to be the standard since the Policy page could be read that way and the prevailing practice suggested this interpretation. We definitely need to clarify the Policy one way or the other, and I still think that abbreviated Publication records are a better way to capture this data to facilitate Verification, but that's something to discuss on the Standards and/or Policy page. Ahasuerus 12:31, 13 August 2008 (UTC)
I'm quite happy with abbreviated publication records - they may even grow over time as we discover there was more than one SF story in it. One of the things that put ME off was the minimum requirements for Magazine entries: e.g. there's a couple of dozen notes saying that a story was first published in "The Strand" magazine of a certain date, but if you try and enter just the information we have you get a big "*** ERROR: No authors were specified" message. And I for one don't know who the Editor of a magazine that old was... still, if we can figure out what to do in these cases ('uncredited'? 'anonymous'? 'unknown'? 'dunno'?) and make searching for magazines a little easier (as basically you cannot find them via anything other than advanced search, or a link from the wiki which we probably won't have in these cases), it shouldn't be too difficult to convert notes to abbreviated publications (or 'stubs' as some people have been calling them). Whether we want to start 'proper' magazine wiki pages for such is a matter we should probably address sooner rather than later: maybe separate them out into another section like we did with Fanzines? I can search notes offline if people tell me what to look for - e.g. we have almost 600 "First Published" notes, but those won't always point to a non-genre magazine, they may have been written before we got the genre magazine, or may refer to a book - or even a newspaper. BLongley 20:22, 13 August 2008 (UTC)

I had somehow thought the policy was not to enter general fiction mags such as The Strand, Argosy, and All-story, and i have advised others to indicate first pubs in such places via the note field. If partial publication records are to be the way to go, fine, but at a minimum the db demands a magazine title (and I would hope it would be standardized), an editor (perhaps "unknown" will do when a name is not available), and a date, which really ought to be as accurate as possible. On sources, Project Gutenberg has a few issues of The Strand up, and more coming I think. Wikipedia lists the founding editors for both The Strand and Argosy, but not a complete list of editors for either.
If we are going to encourage partial entries for issues of general fiction (non-genre) mags, we really ought to agree on a few standards, and write up a "how to" for such entries. I am OK with either decision. -DES Talk 21:02, 13 August 2008 (UTC)

OK - you start the discussion (we're taking over this newcomer's talk page FAR too much!), I'll go find some examples of what has been done so far, what we could do in future, and see if help actually has some of the answers already. BLongley 21:13, 13 August 2008 (UTC)

General discussion started, see Rules and standards discussions#Partial entries for non-genre magazines. This thead can be closed, and comment directed there, IMO. -DES Talk 17:25, 14 August 2008 (UTC)

Awe Shucks - It 'was' my question to begin with. You were weclome to keep taking it over. (I would have reclaimed it when I needed it). Kpulliam 23:35, 14 August 2008 (UTC)

It's STILL your question - it's just that over the last year or two the number of active editors has increased enough that we now don't ALL watch the "Recent Changes" page and read everything that changes on the Wiki. When it needs attention and discussion it's best to move it to a more general page that people try and keep up with. Consider your question "promoted" if you like. ;-) BLongley 02:45, 15 August 2008 (UTC)
But as you can see, it raises lots of other questions, and already we're into the realms of discussing where to draw the new line (I think you've convinced us that the line should be moved a bit at least, or that the line should have been where you thought anyway). I'll be surprised if "Cosmopolitan" appears between "Cosmic Stories" and "Cosmos Science Fiction and Fantasy Magazine" on the Magazine Wiki any time soon, but "Argosy" might fit in. Still, a quick[1] sampling I did based on one Anthology I acquired today suggests "Playboy" was publishing SF at least 50% of the time in 1962. Does that fit? BLongley 02:45, 15 August 2008 (UTC)

[1] "Quick" turns out to be 3 hours research, and that's just from checking the titles mentioned: accidentally-found additional SF and/or SF authors, artists, essayists, columnists would (will?) take even longer. BLongley 02:45, 15 August 2008 (UTC)
The Three-Seated Space Ship
I approved your change of the date of The Three-Seated Space Ship but I'm wondering if the date should be 1962. I often times research things like this on AbeBooks which has 39 copies for sale but none mention a date in the 1950s. The publications seem to be
1962 Macmillan hard Cover - Stated First edition
1964 Macmillan hard cover - Third Printing
1967 Macmillan hard cover - Fourth printing
1972 Macmillan hard cover - Fifth printing
0000 Macmillan hard cover - Sixth printing (undated)
1972 Macmillan/Collier paperback - possible SBN or ISBN 0020450206 - Some sellers call this "Collier 1st printing" - I suspect it does say "first printing" and would be the first paperback. One seller reports "copyright 1962." One seller reports August, 1972 but it's not known if this is stated in the publication is is from Amazon. Marc Kupper (talk) 04:03, 13 August 2008 (UTC)
By all means, go with the later date (or any date you feel most comfortable with). I only reported the date listed on Wikipedia. My primary concern was that the publication date was very much post 1922 (and not in the easy public domain) and I stopped researching once I determined that to be the case, and found a more reasonable date. Kpulliam 04:48, 13 August 2008 (UTC)
ANDNOT Broken in advanced search?
I tried several times tonight, but continued to get a broken SQL query when using the ANDNOT option in advanced search. Any ideas? Am I using it wrong? Or could someone let The Powers That Be know (if they don't already). Kpulliam 05:29, 13 August 2008 (UTC)
I'm afraid that's been broken for some time. If you look at the error message, you can see it says "ANDNOT" where it should be "AND NOT". If you have a local MySQL instance and work from an ISFDB Backup, you can workaround it. I'm pretty sure Al is aware but it's not high on the priority list. BLongley 10:12, 13 August 2008 (UTC)
33% (AND, OR, AND NOT being the choices) of the available options under 'Advanced Search' are broken... and it's not high priority... and it appears to be fixable with a single space being inserted into a script? Kpulliam 23:40, 14 August 2008 (UTC)
There may be bigger problems than that involved, but yes, it does look that simple to fix. If you really want to use it tell Al directly how much pain it's causing you. BLongley
I kind of figured that it was a little bit more than adding a space to a single script... but I figured it was still worth pointing out that it's not just one option... it's also 1/3 of the options (which to a new user makes it seem More Broken than it would be if it was say 1 of 5 or 8 options).
As to complaining directly to Al because I have a defined need for it.. I will hold off on that. It was an annoyance that I worked around at the time by running sequential runs of the database ... but I do wish it would get fixed in the near (months) future. Kpulliam 02:55, 15 August 2008 (UTC)
I believe the last discussion of the Advanced Search bugs with Al could be summarized as "The whole thing is broken beyond belief/repair and needs to be rewritten", so I am afraid that individual fixes are unlikely to be implemented until after the rewrite. Ahasuerus 02:59, 15 August 2008 (UTC)
If I could do more than 'Hello World' or hack the occasional html statement I would offer to help... Since I can't... I won't. Kpulliam 03:17, 15 August 2008 (UTC)
Bleiler all in the database?
I just picked up Bleiler's '78 Checklist on eBay. I assume that several folks here have a copy. Has anyone done a thorough transfer from that resource to the ISFDB? Are there any issues with using that as a sole resource for adding references to the database? Is it appropriate to add to the note for the listed works "Bleiler '78" or something similar? Kpulliam 00:22, 15 August 2008 (UTC)
If it's your intention to do a complete verification of each title/pub, I think we should add Bleiler's Checklist as a secondary source on our verification list. I've been trying something along those lines with Tuck's Encyclopedia, and I admire you for taking on the task with Bleiler's Checklist. Choose any pub and click on the "Verify This Pub" link under Editing Tools, and you'll see the list of sources. (Don't confuse Bleiler's Checklist with his Gernsback Years.) I'll bring this discussion to the moderator page to see if there are any objections to my adding Bleiler to the list. MHHutchins 01:15, 15 August 2008 (UTC)

BTW, if you don't mind my asking, how much did you pay for the book? I see on abebooks.com it's going for between $65.00 (ex-library) and $175 (signed). MHHutchins 01:23, 15 August 2008 (UTC)

[1] $17.50 plus $14.50 for priority shipping or $32.00 total. I was VERY Happy with the price! (Yes I know that shipping is a bit high, but I threw in a couple extra dollars to ensure it shipped quickly and to upgrade it to priority from media mail- can't stand the wait till it arrives - and again, I have zero complaints about the total cost.) Kpulliam 01:48, 15 August 2008 (UTC)

Wow, that was an amazing bargain! Perhaps I should check eBay more often. :) MHHutchins 02:13, 15 August 2008 (UTC)

It was just luck. The seller said that the last copy he sold went for over $100. My top bid was $60+ so all it would have taken was one other person willing to go higher. I think the poor condition of the dust jacket may have turned off some bidders. In the picture the spine appears to have been faded all the way to white from the original yellow. Kpulliam 02:58, 15 August 2008 (UTC)
Dang it - It was less than 100 miles away at 3 AM but didn't get here in today's mail. But it should arrive tomorrow. Kpulliam 23:12, 15 August 2008 (UTC)

Bleiler arrived. No index by year (as I was hoping). Author and Title index. For lack of a better reason, I started with the A's. The first three (IMHO) obscure entries are already in the database, but unverified. It looks like someone may have used this as a source for new pubs already. - More later after I have a better sample. (I will also skip forward in the alphabet for a spot check there too). Kpulliam 20:50, 16 August 2008 (UTC)

Did some spot checking in the P's and found unadded works. Moved to 'M' and beginning to enter works from there.... kpulliam 15:39, 17 August 2008 (UTC)
Hosting Images; Fair Use Images; Image Linking ?
I've noticed some ISFDB images, and I am concerned about VISCO...
There is a page in the Wiki that deals with image linking, and describes that as of May 2008, the ISFDB does not host images (But now I can't find it to link). But I also see a (fairly empty) page that has 70-80 'fair use' images and it looks like someone has crafted a boilerplate page to hold those images and provides a disclaimer regarding thier use. Has policy changed, and the policy itself just hasn't been updated yet... or is this a limited test? Kpulliam 01:49, 16 August 2008 (UTC)
The Magazines are currently linking the images from VISCO... and we have permission to do so.... but VISCO hasn't been updated in literally years. So I doubt that any updates sent to them are going to appear there... and I'm concerned that VISCO could disappear at any time.
Is there any support for a concerted effort to replicate the VISCO images here, (now that there is apparently a test bed project for hosting images)? If not here, how about hosted elsewhere and linked? Kpulliam 01:49, 16 August 2008 (UTC)
I see some of the current magazines are getting their covers uploaded here each month, but I haven't heard of any plans to copy the back-catalogue from anywhere. We seem to be coping with current loads quite satisfactorily though and I'm sure we could cope with a lot more images, maybe not so many in a short period of time though. I'd definitely want permission before I started hitting a site's bandwidth that much though. (And I'd want an API here to submit them programatically rather than manually too.) Also, some people have moral objections to just lifting images: it's better than bandwidth theft I think, but so far I just upload my own scans. Legally though, it seems we could take them so long as it's just the cover, with no added work that might be subject to separate copyright. BLongley 09:08, 16 August 2008 (UTC)
The page you probably saw was ISFDB:Image linking permissions, which is linked from the ISFDB:Policy page. I have just updated it to mention that we are now locally hosting images. Policy on excactly what disclaimers/notices we need to/ought to provide for fair use images is still under debate. Some use Template:Cover Image Data or other image liscnece tags, others do not.
I agree with Bill's comments above on downloading images fgrom elsewhere, and re-uploading them. When an image is hosted on an author's site or fan site to which we do not have permission to link, I have in some cases downloadeed it myself, adn re-uploaded it to our wiki. I think that in the case of an image being used under "fair use", as almost all book covers are, the immediate source of the image is irrelevant, it is the ultimate source (publisher or artist) that is significant. -DES Talk 16:51, 16 August 2008 (UTC)
Revisiting Web Publications - Gutenberg
I found this short discussion archived - Web Publications
The end of the discussion appears to nix the idea of linking to etexts and web publications because of the 'URL hopping' nature of links.
I think it might be time to revisit this.... at least as far as Project Gutenberg US etexts are concerned. Every text since #10,000 (and more and more of the 1-10K texts) are available at permalinks as http://www.gutenberg.org/etext/3536 for The Enchanted Castle I picked this text because I was just surfing and E. Nesbit was on the front page with a birthday today. At this point there is a lot of short fiction up from the 20's through the 60's where lack of copyright renewal has dropped these works into the public domain, and more on the way (including the first 20 issues of Astounding as complete publications).
The gutenberg permalink information is here and reproduced below:
---
If you want to link to one of our books or authors please use only the URL formats described here.
---
I was thinking about just putting the link text in a note field, but the idea of listing the Gutenberg publication as a publication of the text seems like an even better idea. I was also thinking of adding a tag 'Gutenberg Text', or 'Gutenberg Text (US)' and 'Gutenberg Text (AUS)' as at least a flag in the record. I saw where there is a feature request to have the title in a publication record link to Gutenberg but I personally think that opens itself to complications (Which publication was used to create the text? - This information is not available to the casual Gutenberg user). If I was requesting a new feature, I would want a little 'G' link or something after the work name in the author bibliographies plus a working link in the Title bibliography, and an author link in the author bibliography.
As a test of just author linking, I added a weblink for James Schmitz to http://www.gutenberg.org/author/James_H._Schmitz
Thoughts anyone? Kpulliam 03:28, 16 August 2008 (UTC)
I just found that gutenberg is already listed as a publisher Publisher Gutenberg - Does this mean that this is accepted... or is it just someone testing a few things out? Kpulliam 04:57, 16 August 2008 (UTC)
Gutenberg is accepted: we adapted when we were convinced of the stability. That's the first time I've seen Author Links rather than Publication links though: it seems useful. BLongley 09:13, 16 August 2008 (UTC)

You might want to look at Publisher:Project Gutenberg, which attempts to descrivbe current practice in regard to PG works, and at Publisher talk:Project Gutenberg where some of these points have been discussed. -DES Talk 16:55, 16 August 2008 (UTC)

Thanks! for the links. Does anyone know why 'search' in the wiki for both 'gutenberg' and 'Gutenberg' doesn't return these pages? Kpulliam 17:07, 16 August 2008 (UTC)

By default, "search" searches only the "main" namespace. The "advanced search" allows you to specify the set of namespaces to search. Or you can search the site via google, which is often better. The search is not case sensative. -DES Talk 17:42, 16 August 2008 (UTC)
Advanced Search? I don't see any other search available on the Wiki, and the database search didn't imply it could search the Wiki for general terms. Maybe there is an advanced search page... but not an obvious link to it? Kpulliam 18:03, 16 August 2008 (UTC)

When you do a wiki search, whether it fails or not, at the bottom of the page is an advanced search dialog, which may be labeled "search in namespaces". You can also get to it as Special:Search, which is linked to as "search" on the list of "special pages" which is linked to from every wiki page. You can also change the default behaviuor of the search by setting options in the search tab of the My preferences dialog, reachable from the upper right of most wiki pages, or via Special:Preferences. I hope this helps. -DES Talk 18:10, 16 August 2008 (UTC)

It Helped a WHOLE BIG BUNCH! - Kept me from asking at least 5 or 6 questions today Kpulliam 02:12, 17 August 2008 (UTC)
Global Edit Requests?
Where do I put global edit requests (Edits that are best applied to lots of records at once)?
The early Astoundings were published by "Readers' Guild" and not "Reader's Guild".
See March 1931 Astounding Title Page
I submitted this on the March issue, but I imagine it needs changing on all the other records. Kpulliam 05:15, 16 August 2008 (UTC)
Moderators can do mass updates to a publisher. If ALL the records need changing, we can just rename that publisher. Have you checked enough to be sure that's needed? If only 'most' of them need changing we could still do the edit and change the few exceptions back.
Note that we don't get special mass update tools for much, and when we do they tend to be all-or-nothing - they are not all 'select these X from Y records to update' tools like you get with Merges/Unmerges and Deleting titles from a pub. BLongley 09:29, 16 August 2008 (UTC)

I've since figured out that the earliest ones were Publishers' Fiscal Corporation instead of Readers Guild ... so there is a name changfe in the first 12 months. I'll probably just upload them all as individual changes. Kpulliam 13:42, 16 August 2008 (UTC)
Multipage Artwork?
I was about to do a primary verification on Astounding 1930 when I realized that the interior artwork was spread over multiple pages.
An Example: Both artwork and story for "The Beetle Horde" begin on page 8, and artwork and story continue on page 9. The story continues for many more pages. I define the artwork as being a single piece because it only has a single signature AND it has elements which stretch across the fold. Astounding did this quite often. Is there a way in the database to show a multi-page single piece of artwork? The reason I ask, is that if we index this as a single piece of artwork, and later we decie to grab and host (or link to) this artwork, it will likely exist as separate images. By indexing as 'multi-page' artowrk now, that later 'what if' becomes a more complex process (with notes etc explaining that the two links are to separate halves of the artwork listed)
Later in this same issue, the samething occurs again.
On Page 100 for "Tanks" again there appears to be a single piece of 'credited' artwork stretched over two pages. but the scale is different and some would consider it a new piece of artwork, but on the same theme.
And all of this is in comparison to the standard partial page, single page artwork...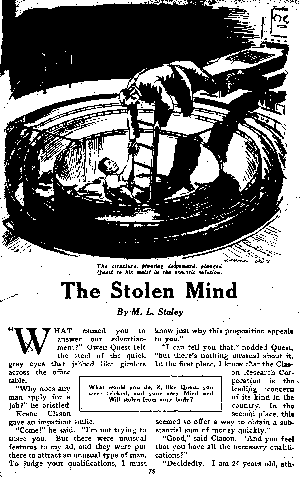 So what is the best way to index this? Kpulliam 17:02, 16 August 2008 (UTC)
We are currently treating a single piece of artwork as a single item even if it is multi-page. Davecat has run across this problem with Project Gutenberg titles and you may want to discuss it with him. I might note that we do not currently merge artwork entries. If a piece of artwork is reprinted it can be given the original date and (reprint) appended to the title. Example. Not very elegant but there are too many variables in the way artwork is entered.--swfritter 17:17, 16 August 2008 (UTC)
Linking to interior artwork entries is definitely a long-term dream for me but there are copyright, image hosting, and other issues about which other moderators have for more knowledge than myself.--swfritter 17:21, 16 August 2008 (UTC)

In the case of these images... they are copyright free and in the public domain in the US. The first many (20 or so) issues of ASF were printed without a copyright notice anywhere. All of the text, the artwork, the layout, everything is public domain (in the US) at least as far as the PG Lawyers are concerned. Kpulliam 17:55, 16 August 2008 (UTC)
Artist pseudonyms
I currently have your Wesso pseudonym entries on hold. I might note that we still do not have a solid standard for determining artist canonical names. The standard for authors is, with some qualifications, to go with the most commonly used name that as credited. Much of our artist data was entered from secondary sources. They often listed their notion of the artist's canonical name rather than the name as credited. Emsh, for instance, was commonly listed as Ed Emshwiller. Once we make a determination of canonical name it is very labor-intensive to revert to another name if it is later found that the determination was in error. In many cases we would be dealing with data that is not entered by the standards we used. If you feel that making the pseudonym determinations for Wesso are fully justified, let me know.--swfritter 17:34, 16 August 2008 (UTC)
For this artist, the accepted Pseudonym from everything I can find is H. W. Wesso (As evidenced by the fact that Bleiler in the Gernsback Years used this form - and hence that is what we have entered the most often. Also I believe the same statement that H. W. Wesso is the most used form also appears on wikipedia.
As for the ISFDB Canonical name.... I took the fact that H. W. Wesso was the canon name elsewhere, combined with the fact that it was the only name with Birth and death dates (The death date we have is suspect by the way - Wikipedia lists a different decade and year) to mean that someone else had already determined H. W. Wesso to be the canon name. I'm okay with leaving it as is for now, but when I was verifying Jan 1930 ASF, I created yet another variant because for 1930, Wesso is credited as H. W. Wessolowski (Though consistently referred to as Wesso or H. W. Wesso in the letters) and then in Jan 1931 (or so - It could have been Dec 30, or Feb 31), the contents page credit changes to H. W. Wesso (and I assume continues from then forward as H. W. Wesso).
But again, I'm okay with leaving it as is for now. Kpulliam 17:50, 16 August 2008 (UTC)
Verification from online page images
I've read the discussion at Bibliographic_Rules#Verification_Definition and Help:How_to_verify_data and my take (on online images) is this:
If I think the source is stable, and I point to the images in the notes, I can do a primary verification.
If I think a source is unstable, and I download and archive the images, I can do a primary verification.
If I think the source is unstable, I can do a transient verification.
If I think the source is incomplete in some way, (Dustjacket msising, cover missing, text only pages missing or illegible) I can do a verification as above, with a note about the problem in the notes.
I'm just throwing this out there. If I'm on the wrong path, please someone point me in a better direction. Otherwise I'll go with the above. Kpulliam 20:33, 16 August 2008 (UTC)
After reading those discussion also, I would not support verification from a cover image only, neither primary, nor primary (transinet). For one thing, a verifier is supposed to have checked and confirmd as correct the page count, and any content (for a collection or anthology), and that can't be done for a cover image. For another the ISBN (if present) should be confirmed, and this is often on the copyright page, not the cover. Publication date is also supposed to be confirmwed if possible, and this again normally requires looking at the copyright page. Title on the title page is prefered from the title on the cover, and how can one tell if there is a difference without seeing the title page. I maght support verification from an amazon "look inside" that shows front and back covers, copyright page, and ToC (where relevant), but nothign less. -DES Talk 21:31, 16 August 2008 (UTC)
Re: Amazon Look-Inside: it'd only be safe in limited circumstances anyway. You need to see the title page, which is often omitted: and ToC is NOT enough to give verified titles or page numbers for collections or anthologies. For anthologies, you can't even be sure of the author credit. BLongley 21:52, 16 August 2008 (UTC)
Perhaps we should create a new verification type: "Cover only".
Now if by "online images" you mean a scan of the entire book, not just of the cover, then I would pretty much agree with the above. I would want a note that the verification was done from a scan. I verify Project Gutenberg editions routinely, for example. (those aren't simple scans but new ebook editions, but the principle is similar, IMO). -DES Talk 21:31, 16 August 2008 (UTC)
You misunderstand me. I intend to do verification on complete page scans. (All 144 pages, plus inside and outside covers in the case of the early astounding magazines). It is only some books that do not have scans of the binding, and also usually don't have a DJ (If there ever was one). Kpulliam 21:42, 16 August 2008 (UTC)

Regarding the 'some books' above, I have also found several books where complete page scans of the entire work are available at stable links in The Internet Archive.
Examples include
Click on the 'flip book' link on each of these pages to browse the text.
Kpulliam 21:52, 16 August 2008 (UTC)
Links in db notes
Wiki-style links don't work in actual DB records on the isfdb, only on wiki pages. In the actual db you must hand code an actul HTML link. In case you don't know the format it is:
 <a HREF="URL HERE">Link Text Here</a> 

I hope this is helpful. I corrected the link in your recent edit of the record for The Checklist of Fantastic Literature -DES Talk 21:57, 16 August 2008 (UTC)
Thanks! Kpulliam 22:00, 16 August 2008 (UTC)
references to online catalogs
When you have checked a publication against OCLC/Worldcat, Library of Congress Online Catalog, Template:Melvyl, or a simialr onmline catalog, it is helpful if you include the appropriate reference number or catalog number. for OCLC htis is the accession number, generally idenitifed as "OCLC: nnnnnnn". For LoC this is the LCCN. See Help:Using Worldcat data for specifics on OCLC/Worldcat.
Note also that publisher names in the form "London: Peter Davies" are often not very helpful. In this case we have currently on file:
"Davies" (1 pub)
"P. Davies (London)" ( pub
"Peter Davies" (7 pubs)
If the location is important to disambiguate the publisher (as between Penguin and Penguin (Aus)) I would suggest putting it in parens after the publisher name. But often it is not needed, because we don't have other publisghers of the sam or simialr name from other locations. The location can alo be mentioned in the notes field, for now, or on the publisher's wiki page, if one exists. Note also that Publisher locatiosn in libarary catalogs, particualrly OCLC, are often grossly inaccurate, soemtimes listing "london" for a publisher actualy located in Scotland, for example. -DES Talk 00:57, 17 August 2008 (UTC)
I was trying to input Pubs from Bleiler (1978) as my primary reference. I only refered to OCLC/Worldcat when there was a discrepancy in what I was trying to input, and I was not trying to use them as the singular and authoritative source... so I didn't think links were appropriate, but I now see that in many cases it is helpful to provide that information since I have already researched it somewhat. Thanks! Kpulliam 02:09, 17 August 2008 (UTC)
---
As to the publisher location, I was again trying to input what information I had (From Bleiler), without resorting to an OCLC or Worlcat lookup for every item (And also not trusting the worldcat information as authoritative)
To give an idea of what I have as a reference, here is the entire entry for one author.

MABY, J[OSEPH] CECIL

By Stygian Waters Houghton; London 1933 158

In the case of a brief, (but supposedly authoritative listing) source... must more research be done in order to enter the publication? Or is this glimpse of data enough?
As to the form of the publisher (recognizing that I have only abbreviated information) I went looking for a proper form. A search for 'Houghton' under 'Publisher' returned 12 results, none of them using Houghton alone, and none using London. A search for 'London' under 'Publisher' returned 205 hits, 149 of which are in the form CITYNAME: PUBLISHER NAME while a further 6 are in the form CITYNAME &/and CITYNAME: PUBLISHER NAME. Having determined that 75% of publishers in the database which refer to London, I thought I had found the proper form. I did an extra search on 'New York' under 'Publisher' and found about 80% of the 121 publishers listed use this form also, so I did not consider the form special only for non-us editions.
In the actual example you offered, where I had input "London: Peter Davies" for the two Mary Macardle books, isn't my submission more complete than the other 3 variants you identified in the database?
As to the city (or country) being 'not needed', I will take exception to that. The reason that I feel the city (when known from some source) should be listed (as it is in 75% of the publishers) is that in 2028, when a book first published in the US ages to 95 years of age, it enters the public domain, but because 'By Stygian Waters' was first published in The UK, it will retain it's copyright in the US until 2041, (at least one website claims a 1971 d. for Maby - I did not research this fully). Also, Since Bleiler (1978) is a 'First Edition' reference (Per the author in the forward), the city of publication can differentiate between editions.
I had thought I could enter 100% of the publication information from Bleiler, authenticate against other sources when something was discrepant, and leave flushing out the complete information until later (either by me, or anyone).
So in the end:

What is the appropriate form of a Publisher?
Is it acceptable to enter the information from Bleiler (1978), without determining the complete name of the publishing company before it gets entered? (Once Bleiler78 gets added as a verification source, we can make a note on the page about it, stating that this source sometimes abbreviated a publishing house name, and if someone is trying to verify an edition with the same information except the full name of the publishing house, they can just update the publication with the more complete name, instead of creating a different publication.)

Kpulliam 02:09, 17 August 2008 (UTC)

Maybe I was wrong above. I know that work has been ongoing with regularizing publisher names, merging different forms of publisher names to single publisher records, and developing publisher wiki pages to record additional information, such as publisher locations, historys of publisher merges, realtions of imprints to publishers, ISBN ranges, and other relevcant data. I have not been one of the major workers in this area, and we don't yet have anythign definitive in the way of guidelines. i personally prefer "Publisher (Location)" to "Location: Publisher" and I thought it was the dominant form in the ISFDB, but could well be mistaken about that. (Besides, one can be converted into the other easily enough. Where there is no ambiguity, my ultimate preference would be for just "Publisher", with location recorded on the publisher's wiki page, or in a separate location field when and if such a field is implemted.
As to your other questions, I would say "Yes, do please create publication entries from Bleiler (1978), using whatever publisher information is avilable there". If you choose to cross check other sources, such as OCLC, LoC, Melvyl, or the like, that is a good thing, but it is in no sense required. None of these sources is absolutely athoratative in all cases. Partial info is generally better than none. It is helpful (but not required) to note which sources of info you have checked against, in the notes for the ones that do not have separate verification types. -DES Talk 04:30, 17 August 2008 (UTC)
On the copyright info, by the way, if any author was not a US national, the relevant foreign copyright term may well apply, wherever the publisher was located, under the Uragray Round agreements and the implementing provision of the copyright act. Where loaction matters, it is the loaction of manufacture and/or publiction, which is not setteled by the location of the publisher's main office. This is one reason why I often note "Printed in Country X" when it appears on the copyright page.
Last things first... I like a good 'debate' more than some. If I think I'm right, I will not shy away from it, so please, feel free to pick nits. (I often learn I was wrong even when I felt I was right)kpulliam 05:09, 17 August 2008 (UTC)
And Thank YOU for being here to point me in the right direction (or at least to argue with me about what the right direction is).kpulliam 05:09, 17 August 2008 (UTC)
As to the copyright lengths... yes, there are a few odd ball countries out there with Life +75, +80, and even Mexico is +99 or +100 or something silly, but the majority are +50 or +75.
As to location of production... I'm gonna have to disagree on that one. Production only mattered for some old US Laws that required it to be printed in the US for a foreign work to retain copyright. I believe the 1996 laws squashed all of those requirements kpulliam 05:09, 17 August 2008 (UTC)
As to location of Publisher's imprint, that is canon as far as I know for which country an item is published in. (By canon I mean that it is what the Project Gutenberg clearance team makes determinations by). The country of first publication matters because there is a class of woks that get US treatment if published simultaneously in and out of the US, a different treatment if the US publication comes first, and a third treatment if the foreign publication comes first. See Cornell PD Chart. Yes, The Authors citizenship at the time of publication matters too (per the chart), but that has much less to do with the bibliography work here. kpulliam 05:09, 17 August 2008 (UTC)
There's a LONG way to go on Publishers. The "Houghton; London" you mention is probably "The Houghton Publishing Co." who do seem to have been London based. (See here for the more complete name for this title.) In the long term, we'd probably want the fuller name in the Publisher field and more details about Publisher location in the Publisher Notes or Wiki page for the Publisher. But with only one sample so far, that can wait, it's just important that it doesn't get merged in with "Houghton Mifflin". BLongley 11:42, 17 August 2008 (UTC)
One of the things the regularization project is doing is to clarify and separate publishers, it doesn't just try to merge them all. E.g. we have one Hale entry here at the moment. Is that E. M. Hale or Robert Hale? Well, the 0709 prefix Amazon uses makes me lean towards Robert. When we know a bit more about E.M. Hale we might find that a City would have helped. But in the meantime, any info about a publisher you can add - to the Publisher notes, or Publisher Wiki - will help. BLongley 11:42, 17 August 2008 (UTC)

On location as it affects copyright status. I just reveiwed the relevant parts of USC17 (The current copyright law). Location is relevant only in two ways. 1) the publicatiion must be in (or by a natuional of) a country with which we have copyright relatiosn. This apoplies to almost every country in the world, and so is iunlikely to be an issue. 2) In the case of restored works: works that lost copyright in the US by being published without a proper notice, or not being formally renewed, or failing other "formalities", but which would otherwise be copyrighted. In this case the law of the "source country" is relevant for determining if the work was in copyright on the restoration date, but not otherwise. According to USC17 Sec 104A (h)(8)(C)(i) the "source country" is "the eligible country in which the work is first published". Since provisions are made for "if the restored work is published on the same day in 2 or more eligible countries" I doubt whether the publisher's HQ alone determiens the "country of publication". In particualr a copany with an HQ in one couintry may conduct operations in another. The country or countries in which a published work was adverteied or distributed at the time of first publication would presumably be relevant. If a publishers operations are normally confiend to a single country I suppose that all their publications would have that as their "source country". (You are correct that all manufactuing requirements ended in 1986.) -DES Talk 15:12, 17 August 2008 (UTC)

All publishers operations are confined to a single country (or Union, or confederation, or continental organized group). A publisher must have a single bundle of laws to work within, wrt copyright, libel, contractual payment, etc. In order to determine which laws (For everything, not just public domain status) you must start somewhere, and the city is where you start. kpulliam 15:37, 17 August 2008 (UTC)

I think you may have troubles with older British publications. The organized group seems to be "The British Commonwealth". This may be the reason for the frequent "For copyright reasons this edition is not available in the USA" on a lot of my books. BLongley 17:33, 17 August 2008 (UTC)

Exactly my point. One publisher bought the rights to publish in the UK etc, and a different one (or a sister corporation) bought the rights in the US. Different locations yield different contractual obligations; and in rare instances, can even yield different works. For instance the text may stay the same, but the illustrator may be different in the US or UK versions. I think there was a discussion of that about the British Analog Reprints around here somewhere.

Analog reprints are a minor issue in comparison. What I'm talking about is British publications where the same book is sold in England, Canada, Australia, South Africa, India, et cetera. One edition, sold on five continents. Presumably the contracts were under English law - but they may have been under Scottish law, if the publisher was Collins for instance. Local laws also apply: e.g. Australia always got the "(Recommended Price Only)" exception. Local Publisher location might enter into it, but which? I'm holding a Granada book which says "Granada London Toronto Sydney New York" on title page. The copyright page gives the first Granada address as "Frogmore, St Albans, Herts" - not far from London, but definitely not London. It also mentions an Auckland Office that isn't on the title page (yes, it was for sale in new Zealand too). And Canada isn't represented by Toronto but "Rexdale, Ontario". And it's only priced for the UK, New Zealand and Australia, so Canada and USA are misleading anyway. How on earth is "City" useful in a case like that? BLongley 22:09, 17 August 2008 (UTC)
It's useful in that it shows (perceived) worldwide simultaneous publication. kpulliam 22:41, 17 August 2008 (UTC)

No, it doesn't. It says nothing about worldwide publication. Just, possibly, some publications in certain countries. Probably the ones it's priced for. BLongley 23:20, 17 August 2008 (UTC)

It may not matter for 'modern' works, but for anything prior to 1964 it is significant information that should be recorded (at least for the first US and first foreign edition) kpulliam 22:41, 17 August 2008 (UTC)

Oh, British publications have had such notices long before 1964. I don't have many (I specialise in paperbacks) but can provide examples if needed. Just because you think US versus "foreign" (Non-US?) is important doesn't mean that the foreigners should have classified everything that way. BLongley 23:20, 17 August 2008 (UTC)

- Why is it important? Because it's one of the kinds of information that you should expect in a bibliography. kpulliam 22:41, 17 August 2008 (UTC)

Why should I expect that? Why would I even want that? I like to know which country or language a book originated in, if it wasn't instantly published English-Speaking-World-wide as the big authors get now. But to be honest, most people just want a copy of the book in a language they can read: collectors want a first edition and the rest can go hang. BLongley 23:20, 17 August 2008 (UTC)
(Unindented)Rexdale's been part of Toronto all my life, it was once a village like Rosedale or Forest Hill, but in the 50's it and many others were all amalgamated into greater Toronto. The names are still used by people to identify which neighborhood or part of the city they live in. I agree that the city names should not be part of the publishers name. It should be in notes or the Wiki.Kraang 22:58, 17 August 2008 (UTC)
BTW, Your Granada book could easily be listed as "Granada (London, Toronto, Sydney, New York)" or as (admittedly less concise) "London: Granada; Toronto: Granada; Sydney: Granada; New York: Granada" - Just like other books Verified and Unverified unverified have already done. From the Help:Screen:EditPub "The name of the book's publisher. Use the official statement of publication where you can. The publisher has in the past not been a key entity in the ISFDB, but publisher and imprint support is in the process of being improved, and a process of determining canonical names for publishers and imprints is in progress." and "A good rule of thumb is to choose a publisher name that would not surprise the reader". In the absence of a list or determination which changes these guidelines, I really don't see how a city name will surprise the reader. kpulliam 22:41, 17 August 2008 (UTC)

When somebody adds a City to a publisher name you've recognised on its own for decades, it IS a surprise. Work with what we've got already, which seems to be leaning towards "it's the same damn publisher, it doesn't matter that they moved to bigger offices in 19xx and again in 19yy!" We're actively trying to change those guidelines: add data to support where you want us to go. BLongley 23:20, 17 August 2008 (UTC)
I agree. Sometimes publishers split the world up country by country or region by region, sometimes they don't. Some publishers truly are international. It is simply not corret to say that "All publishers operations are confined to a single country (or Union, or confederation, or continental organized group)". Some publishers publish worldwide through a single corporate entity. Obviously their local operations need to comply with local laws, but that desn't make them separate entities. And such publishers sometimes publish a work first or solely in a country other than their "home" country, if that is where it has a market. The "cities" listed by such publishers on their copyright pages are more a matter of prestiege or history than a reliable indication of where the book was actually published. -DES Talk 22:28, 17 August 2008 (UTC)
Put simply. Most of the world is currently part of a single trade union when it comes to copyright. That was not always the case, and it may not continue to be the case. (Afghanistan, Eritrea, Ethiopia, Iran, Iraq, San Marino are not currently part of any trade agreement with the US concerning printed works etc.) I'm pretty much done arguing this point. The location of the publishing house is information; It has historically been presented as 'part' of the name of the publishing house; the ISFDB can (and does) handle this information correctly in an indexed and searchable text field.kpulliam 22:59, 17 August 2008 (UTC)
I personally think that when at all possible, when we can put clear, concise, correct information into an indexed and searchable text field, we should. kpulliam 22:59, 17 August 2008 (UTC)
When adding or changing author data, the legalname should be in the form LASTNAME, FIRSTNAME MIDDLENAME. Thanks. MHHutchins 16:02, 17 August 2008 (UTC)
Oops - I guess I got a little cut n paste happy. Thanks for catching my goof! kpulliam 16:07, 17 August 2008 (UTC)