User talk:Biomassbob/Archive/Aug2020-Apr2021
Jump to navigation
Jump to search
Madam Crowl's Ghost & Other Stories
Bob,
A quick question about the two collections you added here. The stories are under the name Joseph Sheridan Le Fanu but the collection is under Sheridan Le Fanu. Are they really credited differently (the shorter name on the book title page and the full name on each story title page)? If so, a note should be added to the publications explaining the discrepancy. If there are no author names on the stories title pages or the short name is used, then variants should be listed here and not the parent records.
PS: And while I am here, please do not forget that when a book uses a non-canonical form of the name, the record needs to be varianted to the canonical. Thanks! Annie 05:21, 4 August 2020 (EDT)
Annie, I have no idea what's on the title page or on the individual stories. If you look at the individual books, you will see that the information came from a review in a pub I was editing and from Amazon and bookfinder.com. I used the name on the cover for the books' author and varianted the title for the pair to the canonical name of the author, but not the author's name on the individual books because there didn't seem to be a way to variant them. I also used the canonical name on the stories; those story names came from the review (only 10 of the 12 stories were named). I entered a lot of pubs because of reviews in Ghosts & Scholars (I recently acquired all 33 issues, and the existing entries for all but 2 was pretty much limited to the stories), and treated them the same way as this one. Bob 16:34, 4 August 2020 (EDT)
The collection was not varianted -- that is how I stumbled on these - I added another of his collections and found that one sitting there when I went to variant mine :)
IMHO, unless we have supporting documentation to prove it otherwise, the collection author name and the stories author name should match... Annie 19:49, 4 August 2020 (EDT)
I have no arguement, but what should I do? I don't see how to variant the collection itself, or any individual pub. I can change either the collection's author name to the canonical name (without any clue to what the name on the title page is) or change the names on all the stories to match what is now on the collections. What do you suggest? Bob 20:44, 4 August 2020 (EDT)

I varianted the collection title last night :) Let me do some digging later today to see if I can find out what the title page credit may be. Annie 21:11, 4 August 2020 (EDT)
I've asked a bookseller with one of the paperbacks how the author's name appears on the title page. I hope one of us gets a result. Bob 21:27, 4 August 2020 (EDT)
The original book (published in 1923) was credited to Joseph Sheridan Le Fanu, according to someone who has the book for sale (he provided a scan of the title page). I've changed the author on the books to the full name, presuming the later editions would copy the original. Bob 15:39, 5 August 2020 (EDT)
Title records with HTML in Titles
Hi Bob,
Most (if not all) titles in this report seem to be generated by you. As per the help page:
Fonts. Sometimes a title will have one or more words in italics, or in boldface, or in an unusual font. The ISFDB software would permit representing these via embedded HTML. However, this would mean that user searches that did not include the HTML would fail in many cases where they ought to succeed. Therefore, do not use embedded HTML to show font changes. For the same reason, do not use underscores to show _italics_, nor asterisks to show *boldface*, nor other typographical methods to show font in titles. If the font seems important, it can be shown and/or described in a note.
So would you mind cleaning up all the HTML code from these titles? Thanks! Annie 03:31, 7 August 2020 (EDT)
Another bad habit exposed! Yeah, I'll take care of them. Bob 12:42, 7 August 2020 (EDT)
Reviews
In Your Fanzine Ghosts & Scholars #16, 1993 there is a review of 'Imagination of the Heart' by Theresa Whistler, probably typewriting error or misspelled as Theresa Whisler. Can You please have a look on it? --Zapp 06:13, 9 August 2020 (EDT)
And in Ghosts & Scholars #10, 1988 there is also a review 'Masters of Fantasy' by Richard Dalby misspelled as Richard Daley. --Zapp 06:18, 9 August 2020 (EDT)
Third: Review of: Shadows at Midnight, the authors seem to be M. P. N. Sims and William Kimber ..., in Ghosts & Scholars #3, 1981. --Zapp 06:23, 9 August 2020 (EDT)
Thank you for catching these typos. I've been grinding away entering first Ghosts & Scholars, now All Hallows and it doesn't suprise me there are typos in my wake. I knew that I had converted Dalby to Daley somewhere (when I started typing in the name Richard, the computer suggested both Dalby and Daley), but I hadn't yet tracked it down. I'm particularly glad you found that one. Bob 11:26, 9 August 2020 (EDT)

I feel like a tracking dog :-) and found another one: Review of: Nightrider by author: Sheila Holligon, not Holligan. --Zapp 12:55, 10 August 2020 (EDT)

Keep it up! Fixed. Bob 13:24, 10 August 2020 (EDT)
Chapbooks
Hi Bob, can you take a look at the three titles on this cleanup report (I Am Dracula, Moths and The Monkey's Paw)? All of them were entered/modified by you. A ISFDB chapbook should have a shortfiction title as content. Thanks, --Willem 03:53, 13 August 2020 (EDT)
I understand why each of these happened, they are all strange cases. "Moths" is part of an in-progress adjustment of two seria and the other two aren't just stories in the usual sense. However, done. Bob 10:15, 13 August 2020 (EDT)
Fantasy & Terror #4
Hi, is there really an essay by Jessica Alicia Salmonson in this magazine edited by Jessica Amanda Salmonson? Horzel 15:37, 17 August 2020 (EDT)
Thank you; I looked right past it. Fixed. Bob 16:08, 17 August 2020 (EDT)
The Monster Hunter Files
when I check the look-inside at amazon, the cover artist's name is spelled Allan Pollack. Can you verify two Ls in his first name on your edition of The Monster Hunter Files, which you primary verified? Also asking other verify-er Susan O'Fearna 19:08, 17 August 2020 (EDT)
Susan, did you look at the entry? It shows the name given in the pub was "Allan" and it was varianted to "Alan". Bob 19:48, 17 August 2020 (EDT)

The first printing hardcover I have gives "Alan Pollack", with only one "L" in "Alan", on both the copyright page and the back dust jacket flap. Is your copy different, Bob? ···日本穣 · 投稿 · Talk to Nihonjoe 02:52, 19 August 2020 (EDT)

My response was based on the entry. Looking at the book, "Alan" is used on both the copyright page and rear jacket flap. Bob 12:36, 19 August 2020 (EDT)

Okay, I've updated the entry and fixed the varianting (by removing it). ···日本穣 · 投稿 · Talk to Nihonjoe 13:19, 19 August 2020 (EDT)
Jade Warrior: Fresh Kill
is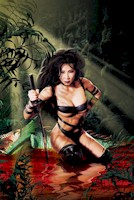 this the image in Spectrum 8 page 74? Susan O'Fearna 15:48, 20 August 2020 (EDT)
Yes, indeed, that's the Tony Mauro illustration. Bob 15:55, 20 August 2020 (EDT)
Awesome, thanks so much !!! Susan O'Fearna 01:04, 24 August 2020 (EDT)
The Nebuly Coat
Can You please have a look on this? I assume You've cloned it. I guess there are two pubs mixed together. It looks like an audiobook, but Amazon gives it as an ebook of 2020. And I don't know if a review of 2004 really does fit to this? --Zapp 04:43, 23 August 2020 (EDT)
The same here. --Zapp 04:53, 23 August 2020 (EDT)
Thanks for flagging these. Both are e-books, not audio downloads. I just labelled them wrong. The review in 2004 was based on the Ash-Tree Press edition, of course. But the software doesn't allow you to link an individual edition to the review, you have to link the entire pub. If you think about it, that makes sense because the review will mostly apply to the text, not the format. As I went through the reviews in the All Hallows and Ghosts and Scholars magazines there were a lot of cases like the The Nebuly Coat where there were many more recent editions since the review. In some cases, there were older editions as well. I won't claim to have entered them all into the data base, but I did enter quite a few. These entries are seldom complete; commonly, the price isn't easily found except for very recent editions. But I think the information improves the overall data base. Bob 12:04, 23 August 2020 (EDT)
Sixteen Ways to Defend a Walled City
I'm currently reading Sixteen Ways to Defend a Walled City. Per the edit history, I see you added the non-genre flag. I disagree with this. While it has not magic, etc. it is set in an alternate world and has the feel of a genre work. It is also marketed by the publisher as a fantasy. I don't see why we'd label this non-genre. -- JLaTondre (talk) 18:23, 23 August 2020 (EDT)
Feel free to change it; I don't feel strongly about it. But I felt the alternate world was just a device so that the made-up story didn't have to fit any real-life situation. Bob 19:50, 23 August 2020 (EDT)
Interviewees
There is a rule about Interviewees. Can You please have a look on this interview concerning Luke Dodd? --Zapp 07:17, 24 August 2020 (EDT)
Aha! That's why I couldn't variant the interview. Thanks, I never ran into that before. Bob 11:43, 24 August 2020 (EDT)
Review of "The Unknown" in SF Review
Hi Bob, can you take a look at this review on page 38 of Science Fiction Review, November 1970? Is it credited to Donald R. Benson or Donald R. Bensen? If it is the first, it should be credited to the second, with a note about the misspelling of the name (see the helptext. Thanks, --Willem 03:28, 26 August 2020 (EDT)
The same for this review of Candlelight Ghost Stories (Anthony John Morris should be Anthony Morris)
And this one of The House of the Hidden Light (A. E. Waite should be Arthur Edward Waite)
--Willem 03:58, 26 August 2020 (EDT)
Benson was the way the pub spelled the author's name, but the reviewed item was easy to identify and connect to the review. I had not run into this situation before, and did not realize I should "correct" the pub spelling in addition to connecting the pub to the review. Thanks for pointing this one out. For the non-canonical names, again thank you for flagging them. All corrected. Bob 13:20, 26 August 2020 (EDT)
Hercules and the Painted Cloth
You have several submissions that have been in queue for awhile (Hercules and the Painted Cloth [8/3], The Dark Side: Tales of Terror and the Supernatural [8/10], & Moths [8/11]). Thanks. -- JLaTondre (talk) 18:59, 26 August 2020 (EDT)
Thanks. Two of them were simple rejections, but one was useful. Much appreciate you telling me. Bob 19:06, 26 August 2020 (EDT)
Magazine of Horror #23
As I had the facsimile reprint of this magazine I have replaced the inferior cover version with a bright new shiny cover that gives more detail to Finlay's artwork. I hope you agree. MLB 16:09, 28 August 2020 (EDT)
Cool! Bob 16:10, 28 August 2020 (EDT)
The Fantastic Fiction of Hannes Bok
Bob -
I've got a bunch of things to chat about with your verified The Fantastic Fiction of Hannes Bok. These are mostly in the order in which they appear in the book. I've been working with the signed edition.
Since the titles of the individual illustrations are listed on page 446, I've deleted the general Bok illustration title in favor of individual ones.
I've also added interior art titles for cover reprints and other illustrations.
I've adjusted the page numbers of the novels to match their title paged. The Sorcerer's Ship and Beyond the Golden Stair are on the first chapter rather than the title page in your publication record.
In this help section states that we do not generally index photographs, but also says about author photographs: "This determination is left to the record's primary verifiers." Had I entered the content for this pub, I probably would have ignored the photos. You seem to have indexed some, but not all of them. I think we should probably either do all or none and consequently I've entered the photos that you missed.
For the photo on page 18 you have the author credit as "Andrew Porter". The credit to me seems that it is saying that he supplied the photo rather than took it (5 years before he was born!). I've changed the author to uncredited for that photo.
For the photo on page 180, you have credited the author as William Lorenzo. I can't find anything in the book to support the author credit. Am I missing something? If not, we should change it to uncredited.
You had the essay on page 189 credited to "Rober E. Garcia. I've corrected the middle initial to "T"
The photo on page 268 is titled "Hanne Bok", I've corrected the title to match the caption.
The photo on page 439 was titled "Hannes Bok Selfie". I think rather than making up a title for the photo, we should probably go with the title of the essay that it illustrates. Thus I have changed the title to simply "Bok".
Jukovsky's essay on page 439 was missing and I've added it.
The essay on page 445 is really part of the Contributors essay on page 433 and doesn't need to be separately indexed, unless we wanted to index them all. I've deleted it from my publication record.
I'm going to delete the content from the lettered edition and replace it with the altered content. I'll also delete the limitation page, as I'm not certain whether it will be identical to the numbered edition. Feel free to do the same if you agree with the changes. Also do let me know about the photographer (author) credit for page 180. Thanks. --Ron ~ RtraceTalk 14:33, 30 August 2020 (EDT)
I could quibble about a number of your changes, but I really don't care enough to do so. I don't know where I got the author of the photo on p. 180. Looking at the text, it seems almost certain that the photo was taken by Vern Coriell. I'll go ahead and import your content, but attribute the p. 180 photo to Coriell. And yeah, I do like to enter the photos if I think they are interesting and/or unusual. Bob 18:41, 30 August 2020 (EDT)
Several Possible Typos
Here are several possible database typos:
Would you mind checking and adding notes if original to publications? Thanks. -- JLaTondre (talk) 16:26, 30 August 2020 (EDT)
Thank you! I just can't spell. Cemetery is really embarrassing, since my daughter lives on Pilot Know Cemetery Road and some road signs spell it "Cemetary". And "questionnaire" was spelled correctly in the note, but not the title. Nice to have someone check me. Bob 18:26, 30 August 2020 (EDT)
Stanisław vs Stanislaw
Bob,
Can you please look at this and make sure you are NOT actually removing a valid pseudonym. Thanks! Annie 17:51, 31 August 2020 (EDT)
Perhaps I did screw up. The problem showed up in the cleanup reports under "Alternate Names with Canonical Titles". The only titles that appeared were all in the one publication, and did not include all items by Lem in the pub. If, as you say, there are two spellings of Lem's name, are both spellings used in the one pub? O.K., but seems strange. Does the alternate spelling appear nowhere else? Sorry if I messed things up, but I don't know how I could have avoided it. Bob 17:59, 31 August 2020 (EDT)

Quick look shows that when you destroyed the "wrong" for you relationship, you left the author with the English "l" here with hundreds of orphaned publications while this now contains both the records under both names. Please let me know if you want me to fix it.
Please be more careful in cases like that, especially with authors from Central Europe - they tend to have some weird letters in their names... :)
If you are not sure how to fix something, skip it or look for help please... In that case what needed to happen was to remove all the stories out from the publication and import the stories with the correct form of the name instead of fixing this one publication by messing up ~200 more. If you had looked at my post in Markwood's message, I even explained there - things sometimes just take time to get done. Annie 18:05, 31 August 2020 (EDT)

One trick I use when two titles/names look the same but for some reason seem to exist separately is to just copy one of them and search for it on the other page. It won't match - then you can start removing letters one by one until they do and you find the different character. Like Cyrillic and Latin o ("о" and "o" - they look the same but if you look for "o" with the quotes, only one of them will be found; same for "ł"/"l" - if you cannot see the difference on your monitor, just search for "l" and see how one of them is not found.
In this case, the DB cannot have the same name under two authors - that should have been a sign that there is something different :) Annie 18:15, 31 August 2020 (EDT)

Well, I did say I didn't understand how the two names for the same person happened. At least now I understand. I suggest that when this sort of differentiation occurs, it is important to leave a note under the unusual name to prevent this sort of mistake in the future. Bob 19:45, 31 August 2020 (EDT)

So do you want me to fix it or do you want to try?
As for notes... we have hundreds of v/w differences for example... which are not different from this case - close letters that may trip people off are common. But feel free to add notes if you prefer. Although you and me may disagree on which is the unusual one here :)
Generally, if someone does not understand why and how something happens, trying to fix it is rarely the best idea - even though I know I had wanted to do it as well sometimes. :) Annie 19:53, 31 August 2020 (EDT)
Annie, you better fix it because I honestly don't know how to created the strange "l". Bob 20:02, 31 August 2020 (EDT)
I just copy/paste it from somewhere online on most machines I work on (only my home one has the Polish alphabet) :) I will fix it. Annie 20:04, 31 August 2020 (EDT)

Thanks, Annie. Bob 20:16, 31 August 2020 (EDT)

OK, all is back to normal-ish. Here is what I did:

Connected the names again as pseudonyms.
Split the COLLECTION record to pull this one out from the ones with the English l in the name.
Cleaned up the 3 titles where there was already a parent with the correct name that was not used anywhere.
Removed all the stories and added the same stories but with the correct author - as we did not have records for them.
Added translator to all old ones (that did not have it) and all new stories I just added
Created the variants for the newly created titles.

The result is here.
Next step: Work with the PVs and the library to find out which of the books here have the Polish l on their title page so I can move them and swap their stories as well.
We are back to where this started (plus the cleanup reports complaining about this whole things are now all solved as well). More work is needed on Lem in general but at least we are better off than we were this morning. Annie 21:13, 31 August 2020 (EDT)
Birthplaces
Hi Bob,
You really had a weird day today, didn't you? :) You cannot have a birthplace as just "upstate New York"... In the very least you need to add a country - us being an international site and all that - it is one of the fields that get verified. :) Fixed it so just heads up. Annie 00:31, 1 September 2020 (EDT)
O.K., but if I saw what you entered, I would assume he was born in New York City. Bob 18:50, 1 September 2020 (EDT)

Then it would have been New York City, New York, USA. I am not responsible for states being named after their biggest cities - our format is City, State, Country (and you can skip the first or the first and the second) and for USA there is a check that the state is one of the valid ones :) And this is why I added the note. Annie 19:02, 1 September 2020 (EDT)
Sin of Omision
Hi Bob,
I am very confused by this record.
979-ISBNs did not exist in 2003 (it is too early for any 13-digit ones). I can see that Amazon claims the ISBN but... Amazon is sometimes wrong and this just cannot be true. Maybe the later printing got the ISBN but not the 2003 one(s). I would usually add a note that Amazon has the ISBN added to the 2003 book (or even clone for a 0000-00-00 record with the ISBN explaining the situation). Self-published books are so much fun... not.
When Amazon says "Independently published", we record the name of the author in the Publisher field unless Look Inside or other information shows a real publisher name :)
Why using the weird Canadian price (C$20.31 and not the US $14.99)? I know that "All Hallows" was printed in Canada but this looks as a US book to me (may be wrong though).
The second book this one is even more confusing - this looks like an ebook to me (and not a digital audio) and the publisher again should be the author as with all self-published books. And why the Canadian price again when even the source here is Amazon.com :) A little trick for ebooks dates - Amazon.com has the dates usually (Amazon.ca and some of the European sites hide them - in this case this ASIN is from June 23, 2020).
Please let me know if I am missing something in these! Thanks! Annie 00:46, 1 September 2020 (EDT)
O.K., I honestly don't remember why I entered the information that I clearly did. Usually, with book reviews in All Hallows, the information comes from the review itself, where that information is available and there is no record already in the data base. I've put that info into the TP entry now, including the ISBN, number of pages (I trust those much more than the Amazon page numbers) and the publisher. The price is the price of the book in 2003. not the current price. I used the date you gave for the ASIN for the ebook (which it was; at one point when I was entering reviews from All Hallows I used audio book instead of ebook for a number of them — brain freeze.) I seriously don't like using the author's name as the publisher of the ebook. Amazon gives no publisher, not independently published, not Amazon, not Koenisha and certainly not the author. It does say it's sold by Amazon.com. With other ebooks, the publisher is frequently different from the paper book publisher and from the author; I guess I don't understand this type of publishing business. And by the way, the Canadian Amazon information was not related to the place All Hallows was published, it was information found using bookfinder.com where Amazon.ca was given as the source of the pub. Why I decided to show two TPs, instead of just quoting the price of the Canadian one, I just don't know. Bob 19:28, 1 September 2020 (EDT)

Looking at the entries in Amazon, I see that the currently available paperback was also published in 2020, and that the lower price applies to that new TP. The author is apparently the publisher of both the new TP and ebook. Bob 19:42, 1 September 2020 (EDT)

Cataloging self-published books is always so much fun... not. If you do not like using the author name as a publisher, leave it empty but someone may add it later... That's the current agreement on self-published books. One of those days, we may get an update of the publisher's page so we can mark up those in a special way (and if the names match, they can even be connected and shown differently - who knows). So I would use the author name in your place -- just to keep the data uniform in the DB. As for "Sold by" - as I had been adding thousands of ebooks lately, "sold by" is very often a parent or distributor company and should not be in our Publisher field. You can add it to the notes if you want. Goodreads may be able to tell us if there was an older ebook - will check tomorrow. :) Annie 01:15, 2 September 2020 (EDT)

The "Look Inside" for the new TP says that the original was published in 2003 and even names the publisher. It seems pretty obvious that this summer the author decided to publish both the TP and an ebook. Also note that the original TP is still available, for example on the Canadian Amazon site. I've found that sometimes Amazon has multiple editions of a pub, but they are not easy to find. They are sometimes found using bookfinder.com, which then connects back to Amazon. Bob 14:31, 2 September 2020 (EDT)

Bookfinder, Goodreads, a few ISBN reverse search sites -- Amazon may be hiding them but they are mostly foundable if you spend the time :) Annie 14:40, 2 September 2020 (EDT)
A Red Son Rises in the West
Hi Bob,
Can you check this book for the author credit? The title page of the ebook shows John Deakins as a co-author and the cover of the tp shows the same (and there is no note in the publication explaining the discrepancy). Before I split the ebook out, I figured I should check if the tp does not need the change as well (so no split is really needed). Thanks! Annie 02:55, 6 September 2020 (EDT)
You're quite right, Deakins is a co-author on the cover, on the spine, on the title page, and he wrote the sequel. I'm sure I didn't enter the pub originally, but I clearly screwed up when I verified it. Thanks for catching the problem. Bob 10:54, 6 September 2020 (EDT)
David's Sling
Would you mind double checking the cover art credit for David's Sling? As per this discussion, Alan Gutierrez lists it as his work here. Since it is the only publication, I assume it is an error in the publication vs. a cloning error, etc. but it would be good to verify that before making the appropriate changes. Thanks. -- JLaTondre (talk) 22:15, 8 September 2020 (EDT)
The copyright page gives "Cover art by David Mattingly", so of course that's what was entered. But Gutierrez does show the artwork on that website, so I changed the cover art credit with a note explaining that credit. Bob 13:37, 9 September 2020 (EDT)
Approving Magazines from the queue
Hi Bob,
Magazines can be tricky at the best of times and new (and often old) editors need a guiding hand when they submit them. I just left a long-ish message to the submitting editor about a magazine you approved without changes (here) after fixing the record. I suspect you got distracted or something so never did the fixes and message so just heads up. :) Annie 02:22, 9 September 2020 (EDT)
Thanks, Annie. I had a bad day yesterday and got careless. Bob 13:24, 9 September 2020 (EDT)
The Compleat OAK Leaves: Volume One of the Official Journal of Otis Adelbert Kline and His Works
Hi Bob,
When you added Cosmos to this one, you added the serial (which exists because we need it when we add it in a magazine) instead the novel. Was that intentional or was it just an oversight while importing from the magazines? Thanks! Annie 07:51, 13 September 2020 (EDT)
It wasn't an oversight. What appears is Chapter 8 of the serial Cosmos, so it is really not the whole serial or novel, nor is it a stand-alone story (in length, it would be a short story). I suppose it could be left as SHORTFICTION, with no further designation, but I thought it should be labelled as a serial to indicate that it isn't a complete story. I'm sure this isn't commonplace in the data base, and it may be unique. If you think it needs to be changed, please feel free to do so. Bob 12:52, 13 September 2020 (EDT)

Under the current rules, we really cannot have serials inside of omnibus but in this case, I am not sure howto handle this one. Thanks for the explanation - I will add some of it to the notes so it is clear what is inside. Annie 00:32, 15 September 2020 (EDT)
The Rest of the Robots
I was working on a different edition of Eight Stories from The Rest of the Robots when I happened upon your verified publication under the title of The Rest of the Robots. I suspect that yours is the same as this publication and that if you check your title page it will include "Eight Stories from...". I almost made the same mistake myself and added a later printing of the full collection rather than finding the existing publication record under the correct title. In any case, I thought I'd let you know of the potential duplicate record. Thanks. --Ron ~ RtraceTalk 18:30, 14 September 2020 (EDT)
You are correct, I messed up. I fixed the title, cover art and introduction. I suppose there are many pubs with the partial title, but mine definitely has the full title on both the cover and title page. Bob 20:14, 14 September 2020 (EDT)

I'm afraid I may not have been clear enough. There are two separate collections. The first one, published in 1964 is titled simply The Rest of the Robots and it contains 8 stories and 2 novels. It's arguably an omnibus by our standards, but I'll leave that to the editors who have a copy to hash out. The second collection, first published in 1966, is a subset of the first collection containing only the stories. The issues with publication is that you had it as a variant title of the first collection. Additionally, it is essentially a duplicate of this publication which is under the correct title record. Unfortunately, the edits you submitted made things a little worse. You had edited the title record of the first collection to "Eight Stories..." which changed it for all the publications under that title. You also added a note describing the second collection. I've gone ahead and reverted those edits. What you needed to do was delete your publication and move your primary verification to the publication record under the second title. You can also amend the notes as you see fit. It appears that you altered the COVERART record which now appears as a variant that is identical to its parent. After you delete your publication, you should also delete that record as it will be orphaned. That should bring everything in line. I'm sorry that I wasn't clear on what needed to be done. Thanks. --Ron ~ RtraceTalk 07:23, 15 September 2020 (EDT)

O.K., fixed. Bob 13:36, 15 September 2020 (EDT)
Feist's Jimmy and the Crawler - which Riftwar subseries?
Hi, this novella has three PVs across its various pubs, but it looks like you're the only one still active here. It's currently tagged as part of the Legends of the Riftwar (sub)series, yet this omnibus indicates it's part of The Riftwar Legacy.
(I note also that it's not part of a "complete" Legends of the Riftwar omnibus, although maybe the novella wasn't out when that particular omnibus was published?)
FWIW, Wikipedia also indicates it is part of The Riftwar Legacy.
Do you have any thoughts/insight onto whether this might be miscategorized? If not, I'll push it to general community discussion.
NB: I've not read a single word of Feist's work, so I have no dog in this fight - I just want to get the aforelinked RW Legacy omnibus added to the database as part of my self-imposed task to add missing UK pubs. Thanks ErsatzCulture 11:27, 24 September 2020 (EDT)
I'm not terribly concerned either way. The publisher clearly considers it part of The Riftwar Legacy, so go ahead and move it to that series. The failure of it's inclusion in the first omnibus doesn't seem very important to me, and the content could make it appropriate in either series. I say go with the publisher's choice. Bob 14:54, 24 September 2020 (EDT)
Thanks! ErsatzCulture 17:05, 24 September 2020 (EDT)
Star Wars Radio Dramas
Hi Bob,
I stumbled upon these while clearing an audio publisher. Under the current rules, these are not eligible for addition (we allow audiobooks but not dramatizations and dramas in audio format). Can you confirm that they are indeed drama and if so, should we delete them? Thanks! Annie 06:52, 4 October 2020 (EDT)
One more rule I didn't know. Yes, they are similar to the films in audio, not someone simply reading books. Bob 10:40, 4 October 2020 (EDT)
Whispers 17-18
I added content to Whispers #17/18 so I can link the interior art Susan O'Fearna 01:32, 7 October 2020 (EDT)
Cool! Bob 10:45, 9 October 2020 (EDT)
Virgil Finlay, Part 3
Found this while looking for something else. A portable Virgil Finlay portfolio. MLB
I appreciate the heads-up. I ordered a set. Bob 19:48, 9 October 2020 (EDT)
Saga Press vs. Saga Press / Gallery
Hello Bob. You've PV'd Black Sun. In light of this discussion, would you be OK with converting the publisher to just Saga Press? Thanks! MagicUnk 06:26, 14 October 2020 (EDT)
Yes. Done. I didn't enter the original publisher, I presume Annie did from fixer. I would have just entered Saga Press, since I do not usually enter a parent corporation in the publisher line. Bob 15:20, 14 October 2020 (EDT)
Strange Stories, April 1939 (facsimile reprint)
Added the letter section, which is buried in the ads in the back of the magazine, to Strange Stories, April 1939. MLB 21:49, 28 October 2020 (EDT)
Excellent! Thank you. Bob 18:57, 11 December 2020 (EST)
Frank Kelly Freas: As He Sees It
I've added interior art contents to this art book. Horzel 17:07, 10 December 2020 (EST)
I'm not sure what you added, but presume it was artwork by Kelly's wife. That's great, much appreciated. But I really don't see a need for, and don't really like, the overall credits for art. With each piece of artwork credited, they clearly aren't needed and they are just redundant. I've never seen that sort of content before. Bob 18:57, 11 December 2020 (EST)

Bob, here is the update. It added all of the smaller individual interior art titles. Once these are added, you can now remove the "combined" titles indeed if so you want :) Annie 19:15, 11 December 2020 (EST)

Wow, I hadn't remembered that the overall items were mine, not the added ones. Thanks, Annie. Bob 21:33, 11 December 2020 (EST)
Ivan Turgenev titles in Fantasy and Terror
Hi Bob. I just added a collection of Turgenov stories and prose poems. I noticed that four of the prose poems have translations in issues of Fantasy and Terror which you have verified (8, 10 and 15) and which have been entered as SHORTFICTION. I've added all the prose poems in the collection as POEMs. The two prose poems in issue 8 are the same translation that as I added. Those from the other issues do not list a translator. If you agree that these should be POEMs, then you can merge the two Garnett translations keeping the POEM type. For the other two, one of them varies by title ("The Nymph" vs "The Nymphs"). If you want to see if they match the Garnett translation, there is a scan here and here. Happily through Google translate I was able to identify the original Russian titles. So if you agree and move your translations to the POEM parents, the SHORTFICTION parent titles can be deleted when all is done. Let me know if you have any questions. Thanks. --Ron ~ RtraceTalk 00:39, 19 December 2020 (EST)
Interesting. In my defense, the first three were listed as stories in the TOC of the magazines (the TOCs are split between stories and poems). Also, the last one did credit the translator, although the third did not. And the title was indeed "The Nymphs"; my error. I did the merges and deleted the SHORTFICTION parent titles. Glad you found these! Bob 14:11, 19 December 2020 (EST)
Ally
This edit should not have been accepted. This is an undated second printing. It should not have had a date that is probably from Amazon for the first printing added. The second printing would not have been before the first. Also, this was a verified record so a source for the date would need to be have been added. -- JLaTondre (talk) 09:48, 19 December 2020 (EST)
Thanks, now I see what I missed originally. Did you do anything about the problems? What do you normally do about undated later printings? Later printings almost never have a publication date other than that for the first printing. The entry requested is the publication date, not the printing date, so I presume all printings should use the same date. Of course the source of the date should be given if the pub isn't verified. Bob 12:28, 19 December 2020 (EST)
O.K., one more thing I didn't understand. I'll have to redate some of my own verified entries. Bob 13:42, 19 December 2020 (EST)
A Celestrial Occurrence
Please look at this edit I'm holding and let me know if it's a database typo (and the edit should be approved) or a publication typo. Thanks. -- JLaTondre (talk) 09:51, 27 December 2020 (EST)
My mistake, go ahead and approve. Bob 18:21, 27 December 2020 (EST)
Bill Ro(t)sler?
Hi, Bob: may you have a good beginning of the year. One question popped up today: could the co-artist of this piece be Bill Rotsler? Thanks in advance for spending a thought about it. Christian Stonecreek 13:23, 2 January 2021 (EST)
After 2020, almost anything has to be better, Christian. If I had done the SFRs before I did this mag, I never would have made this mistake! Yeah, it's Rotsler. Great catch! Bob 13:04, 3 January 2021 (EST)
Sweep of the Blade & Sweep With Me
cover & interiors for Sweep of the Blade Doris Mantair, she says she's done all the Innkeeper chronicles Susan O'Fearna 11:51, 7 January 2021 (EST)
Great! Do you have a reference I can cite in the notes for this information? Bob 11:55, 7 January 2021 (EST)
Bride of the Tree Man
Please see this edit I'm holding which impacts your verified pub & let me know if it should be accepted or not. Thanks. -- JLaTondre (talk) 12:31, 10 January 2021 (EST)
Mixed bag. It should be "Bride of the Tree-Men", with the hyphen. It shows that on the cover, in the TOC, at the beginning of the story and at the top of the each page of the story. Bob 15:54, 10 January 2021 (EST)
Crypt of Cthulhu, #84 Lammas 1993
In Crypt of Cthulhu, #84 Lammas 1993, would you please double check the title on page 17? Is it "School Closing" as listed or "School Closings" (with a "s")? The question is based on this. Thanks. -- JLaTondre (talk) 12:36, 10 January 2021 (EST)
The editor is correct, it should be "School Closings" in the plural. Bob 16:01, 10 January 2021 (EST)
Göran or Goran?
Hi Bob! Woiuld you be able to take a look at the credit for this essay (i.e. is it Göran or Goran Bengtson)? - It is to be found on p. 35 of the magazine it's featured in. The author's legal name is Göran Bengtson, and it could be that the name was entered only by accident (shortage of ös) as Goran. Christian Stonecreek 07:54, 15 January 2021 (EST)
The editor entered his name as "Goran" as shown. I varianted it to "Göran", but didn't look to see if there were other examples of a similar error. Bob 10:28, 15 January 2021 (EST)

Many thanks for looking this up, Bob! I was tempted to transform the name as a whole, assuming it was a missing 'ö' on Michael's keyboard that led to the variant. Christian Stonecreek 11:57, 15 January 2021 (EST)
Jack Vance
Hello. I've reglarised the series title of this to "Writers of the 21st Century" to conform with the rest of them, omitting the word "Series" (unless you think strongly they should all ionclude that word). However I do have a question. How do you know it is number 6 ? I have all except this one and the Asimov volume and none of them have any indication of a series number. Do you know where that info came from ? --Mavmaramis 14:22, 15 January 2021 (EST)
I got the number 6 from the blurbs on the back of the jacket, which listed brief reviews of the volumes on Clarke, Asimov, Bradbury, Heinlein and Le Guin. There is a list of books in the series on the half-title page that shows the same five volumes as "available" and lists books on Dick, Silverberg, Lem and Sturgeon as "in preparation". Since my volume had the LCCN on the copyright page, I was surprised that the other volumes did now show the LCCNs. So I went to the Library of Congress search and looked them up. Clarke is 76-011052, Asimov is 78-011053, Heinlein is 76-011054, Bradbury is 77-076721, Le Guin is 77-076722, Dick is 77-076723 and of course, Vance is 79-57353. I couldn't find the other "in progress" volumes. So the Philip K. Dick volume would normally be expected to be number 6, but it clearly wasn't published when the Vance volume appeared.
I'll leave it to you to number the other volumes and to enter the LCCNs. And I do think the work "Series" should appear, since it appears on the books themselves. But I can live with it's elimination if you feel strongly about it. Bob 15:36, 15 January 2021 (EST)

Hi Bob, thanks for that. The issue being I have the Paul Harris versions of Bradbury, Clarke, Heinlein & Le Guin none of those have LCCN numbers or blurb on the back cover. The only one with LCCN and blurb is my Taplinger version of Dick althgough in that case it is merely quote reviews which don't give series numbers. It also states Silverberg and Lem as "in preparation" - I have never seen evidencce that they were ever published either. I'll amend the series title for them all and since I have no way of knowing the series numbers, adding them would be merely guesswork on my part. --Mavmaramis 01:46, 16 January 2021 (EST)
The Magazine of Fantasy & Science Fiction, April 1980
http://www.isfdb.org/cgi-bin/pl.cgi?60968 Adding a couple of letters from authors in our database, if you have no objection. gzuckier 23:44, 15 January 2021 (EST)
No problem at all. Thank you. Bob 15:09, 16 January 2021 (EST)
Moderating new-ish members
Hi Bob,
Please see my comment here. While the dot/comma thing is easily missed (although if it is an European editor, it is very likely for them to use a comma so I try to check for it), the URL in the ASIN field and especially the way the artist was credited should have been noticed :) New editors will never learn how the site works if we do not help them and not fixing and pointing them in the right direction sets them on the wrong path and causes more work for everyone downstream :) Please, try to be a bit more careful when moderating new-ish editors - most of the old hands know enough already but the DB can be confusing for new people. Thanks and hope you are having a good year so far! :) Annie 22:46, 20 January 2021 (EST)
Thanks, Annie. I completely missed the comma. The rest is just inexcusable. Bob 08:56, 21 January 2021 (EST)

And another one: here. Christian fixed the record at some point, I am just posting explanations. Careful with international editions please - if you are not comfortable handling them, skip them - noone will think less if you if you do. If there is anything I can do to help you with those (cheat-sheet what to look for? Something else?), please do not hesitate to ask - I am around. Annie 21:06, 22 January 2021 (EST)

While I am around - a quick question: The link here leads to the January 1960 publication - aka the magazine. This link does not need to go on the title page as it is for a specific issue (remember that for magazines, the title records are the yearly format ones (Magazine - 1960 for example) so a link to a January 1960 issue belongs inside of the issue. Or am I missing something? I did not look at the rest of the rejected ones but - doesn't that link inside on this one open to the first page of the specific issue for you? Annie 23:28, 22 January 2021 (EST)

I was unhappy with the submissions on the "IF" magazines and rejected a bunch the first time around. They seemed o.k. the second time around, although I think it would have been sufficient to flag the website to the series instead of to each issue. Bob 17:32, 28 January 2021 (EST)
Gustav Mayrink?
Hi, Bob! Are you able to take a second look at the spelling of this author as featured on p. 36 of this magazine? The canonical name is Gustav Meyrink. Christian Stonecreek 13:49, 22 January 2021 (EST)
Christian, you're right on. Fixed. Bob 20:16, 22 January 2021 (EST)
The Vampire Witch Boy
This submission should not have been rejected. Your rejection rationale was "Capitalization required by rules of ISFDB. You can variant with hyphenated part.". However, the submission is creating the very variant you are telling the user to make. I assume you thought it was a merge instead of a variant. I have unrejected it and approved it. -- JLaTondre (talk) 09:14, 23 January 2021 (EST)
Thanks. Bob 10:53, 23 January 2021 (EST)
Dates
Hell-o. So I came across the recent new editions of 2 of the late Hugh Lamb's old anthologies by his son, including a few stories chosen but not used in the old editions. I have a few observations. The new ed. of Victorian Tales of Terror is credited only to Hugh Lamb (as it says on the cover), but the new ed. of Terror By Gaslight is credited to both Hugh Lamb and Richard Lamb for the PB ed. but only to Hugh Lamb for the e-book ed. (as it says on the cover). Also, the cover for the PB and e-book are the same, but the PB record is missing a cover yet credits Richard Lamb as the cover artist while the e-book record has the cover but no credit; the contents are fully entered for the PB but empty for the e-book; the foreword, acknowledgements, about the editor, and afterword by Mike Ashley are wrongly listed as short fiction; the PB page count may be wrong (it says 307 on Amazon); the PB title (and cover title) include the subtitle "Memorial Edition" which doesn't appear on the cover, making the PB seem like a new anthology, while the e-book does not include the subtitle and is listed with the old eds. by Hugh Lamb; the PB is missing the price (Amazon says £9.99); and the contents of the PB all have a 2021 date instead of their original publication dates. --Username 14:43, 28 January 2021 (EST)
Thank you for the information. Amazon does get careless sometimes, obviously. Bob 17:23, 28 January 2021 (EST)
LCCN of Flight of the Nightingale
I clicked on the LCCN of your PV of the TP copy and it led me to the wrong book in the LCCN. I was trying to determine whether or not to enter the LCCN that is shown in my copy of the MMPB verison of the same book. I don't know how LCCNs work, in particular whether they are different for different printings or versions of a particular book. Anyway, the LCCN in my MMPB version takes me to the TP version of the book, while your LCCN takes me to a very different book. I suspect that the LCCN doesn't care about the version, or perhaps they haven't entered one for the MMPB version. I also assume that there is a minor typo in the number shown on your record. I think 2019026060 should probably be 2019029060, since that leads to your TP version. Might be a misprint on your copyright page? Jack Sjmathis 11:45, 1 February 2021 (EST)
You're correct, I mistyped the LCCN and it should indeed be the same as that in the mmpb version. Thanks for catching this. In the future, when you enter a comment or correction in someone's user talk, it's considered polite to identify the publication using a link so the person you're contacting can go to the publication in question. In this case, you would use 1636: Flight of the Navigator, which uses the location of the particular TP, followed by the title of the book in square brackets. This makes it much easier for the person you're contacting to reference the publication. You don't have to use the title, even just the word "this" or "here" can substitute. The key is to use the link to the item under discussion.
The publisher of the book registers the item with the Library of Congress, and you would normally expect all versions of the item to have the same ISBN. But there will always be exceptions, particularly when a later version is modified or edited. But it's fair in a situation like this one to expect there to only be one LCCN for all versions. And the publisher doesn't have to tell the reader what the LCCN is. Publishers who bring out fancy versions of previously published books, like Subterranean Press or Grim Oak Press, seldom bother to identify the LCCN. Bob 15:59, 1 February 2021 (EST)

Sorry about forgetting the link to the book! Many thanks for the explanation. So if I find a LCCN in a MMPB and there is no such external link showing in another version of the same book, should I add it to the links in the MMPB version, or not, since it would be pointing to the 'wrong' version of the book. Jack Sjmathis 17:23, 1 February 2021 (EST)

I would personally use a template and not an External ID in this case with a note that the LCCN is printed in the book but belongs to another edition. See this for an example. While separate editions are not usually registered for a new LCCN, some might and I prefer the external IDs to be pointing to a record that actually describes the book and not a random edition of it. Just my 2 cents :) Annie 17:32, 1 February 2021 (EST)

Annie is a real expert on ISFDB, so I'd follow her suggestion if I were you. But I think that if the version of the pub is published by the same outfit and at nearly the same time, either way is acceptable. There have been times when I used the Library of Congress website to look up the LCCN for a book that I didn't own. Bob 17:46, 1 February 2021 (EST)

Ha, hardly :) Yep - for LCCN specifically either way works because of how LCCNs are issued/requested and you will find these recorded every each way in the DB. Thus "personally" above - as I said, I just like my external IDs to at at least my book :). If you add it as an external ID, still add a note on the edition discrepancy in the notes (so it is clear that yes, it was meant to be added there even if it does not match). Annie 17:54, 1 February 2021 (EST)

I knew you would never be able to resist replying, Annie. I really appreciate all the help you've given me! Bob 20:37, 1 February 2021 (EST)

Thanks to both of you. Hi Annie! Bob, it seems like half of the important stuff in my talk page was written by Annie. Also much appreciated. I'll modify the notes of "Flight".
Of course, Annie has raised another question. What is a 'template'? You mean something you use all the time and can write into the notes by clicking on one click? Sounds marvelous, how do you do that? My approach is to open another instance of ISFDB.ORG (another tab in Firefox) and find an example of what I want to use, and then cut and paste into the note I'm working on. Is there an easier way?
Aha! I think I have found the answer to the above question when I went in to fix the note in the PB edition of "Flight". The LCCN that Annie demonstrated had a pair of Template:Around the LCCN, and I guess that somehow the database knows what to put around that to make it into a link. I tried to do that in my note, and I'll see if it works after my submission is accepted. Meanwhile I'll check out the help files for templates. Thanks again to both of you. Jack Sjmathis 09:20, 2 February 2021 (EST)
Fantasy Tales V12n5, Autumn 1990
Hi Bob,
Would you be able to get to this magazine? We are chasing the spelling of an author name on page 141 - see this update. The editor seems to be too shy to ask despite being encouraged twice so I am doing the leg work. Thanks! Annie 12:16, 2 February 2021 (EST)
Updated Entries
Hi Bob,
Just a quick note about the entries from Tocchan - while he adds legitimate entries, most of his "new book" records are extremely low quality, especially when he adds ebooks. He never adds sources (and we should never have non-PVd books without sources listed) and never adds ASINs (and rarely adds prices). As I assume you do check Amazon or somewhere else to validate his entries somewhere and don't just press approve, can you make sure you update them with the ASINs/BN numbers, sources and prices from the source you are using to validate? I fixed this one and this one (and this later one had an issue in the author name as well -- missing space between the initials). Thanks! Annie 14:14, 4 February 2021 (EST)
Not that his paper ones are much better but at least they have ISBNs so they are easier to track - see all the changes I needed to make in his latest :) So heads up for this editor's submissions in general. They had been notified about all the troubles more than once - I had given up and now I just fix whatever is messed up... Annie 15:07, 4 February 2021 (EST)

Thanks, Annie. I'll keep an eye out on his entries in future. I'm usually lenient about sources since many editors seem to add them after the proposed pub is entered. I ran into an e-book (that matched a tp I own) that didn't have an ASIN on Amazon, the first time that I've ever seen that. I did note that fact, though. Bob 17:10, 4 February 2021 (EST)

Some do, this one does not :) So I just fix whatever is messed up (pb vs tp on the paperbacks is also common) :) He does import contents later on -- but the basic info just stays as is. I would not hassle the older editors unless they do it often - but new ones and ones that never add sources usually get a note (or I fix for them as here)...
Yeah - some ebooks don't have an Amazon version - some just do not want to go near Amazon. But the ones that do, we need it - it gives us a link out and it also makes it easier to spot duplicates (not to mention my friend Fixer who has a DB of books he found and if the ASIN is in place, he won't try to make me add the book again) :) Annie 17:15, 4 February 2021 (EST)
Spirits of Salt
Hi, a story in the ebook version of this anthology, http://www.isfdb.org/cgi-bin/pl.cgi?415631, Spirits of Salt: A Tale of the Coral Sword (http://www.isfdb.org/cgi-bin/title.cgi?1579854) is actually titled Spirits of Salt: A Tale of the Coral Heart, also listed as a 2016 publication (http://www.isfdb.org/cgi-bin/title.cgi?2039823). http://www.isfdb.org/wiki/index.php/User:Anniemod said to take it up with you as the PV. Cheers! Andy Mellotronman 16:28, 8 February 2021 (EST)
You're absolutely right. I'll change the title in the TP (which will also change it in the e-book), you merge it with other appearances. Glad you found this! Bob 16:50, 8 February 2021 (EST)
Ephraïm Mikhaël in Fantasy & Terror #6
Hi Bob -
There are two stories by Ephraïm Mikhaël in Fantasy & Terror #6 that I think should probably be poems. A translation of these two appeared in a collection of prose poems that I'm working on and while it's not 100% clear, I think most editors consider prose poems to be poems as opposed to short stories. Also, the collection where I found the French versions labels them "Poéms en Prose". You may also want to compare your translations against the ones I entered since for them, the translator is identified. You can find them both in this scan on pages 115 and 118. If they are the same, you can merge the shortfiction titles with the poems. You should also double check the dates. Both the dates on the stories predate the translation (1890). I think they may actually be date of the original French though the earliest French version of these titles that I could find was also 1890. Please let me know if you have any questions. Thanks. --Ron ~ RtraceTalk 20:33, 9 February 2021 (EST)
Found another one: "The Brothers at Arms" by Pierre Quillard which you have as a story in Fantasy Macabre #17. The Merrill translation is on page 151 of the above collection. Thanks. --Ron ~ RtraceTalk 20:59, 9 February 2021 (EST)
Merrill translated all of the items in Fantasy & Terror and Fantasy Macabre, and is credited in the notes for the publications. The item in Fantasy Macabre actually credits "Pastels in Prose" as the source of the item and the date as the date of publication of that publication. The 1890 date for the items in Fantasy & Terror was based on the date of death of Mikhaël given at the end of the item; the date of the translation or its source was not given there. I certainly have no problem reclassifying the items as poems; it's just hard to tell when reading them. I'll do the merges. Bob 15:27, 10 February 2021 (EST)
Hannes Bok Illustration Index
Hi Bob -
Could I get you to double check the authors of Hannes Bok Illustration Index? We have one of the authors as "Dan Martin". Both Worldcat and Reginald1 credit it to "Don Martin". It looks more like an "o" than an "a" to me in the cover scan, but since it's script, it's not entirely clear. Of course, if it is "Don" we'll need to figure out if it's the same person as the Mad Magazine illustrator who does have a some artwork listed here. Thanks for checking. --Ron ~ RtraceTalk 18:34, 13 February 2021 (EST)
That was a tough one to retrieve because of it's placement. The authors' names appear nowhere else in the pub than the cover. To me, the letter does look more like an "a" than an "o", but it must me an "o". There are other "a"s on the cover and they are clearly different from the letter in Martin's first name (close to the form of the typed "a"), so it has to be Don Martin. I have no idea if it's the same Don Martin who did art for Mad Magazine, although I wouldn't be surprised if it was the same guy, given his interest in art. Bob 18:56, 13 February 2021 (EST)
Destiny
[5] has 2 editorials listed under short fiction while other editorials are properly under essays. Also, your archived messages page says "August2109" instead of 2019. --Username 18:21, 19 February 2021 (EST)
Thanks for catching the essays. Fixed. Archive is o.k., that particular section goes to August 2019 and the next section starts in September 2019. Sorry if no space bothers you. Bob 20:39, 19 February 2021 (EST)
The year is what's wrong, 2109. --Username 12:23, 20 February 2021 (EST)
Right you are! Bob 14:11, 20 February 2021 (EST)
Dark Horizons
Hi, FYI: There are two series 'Dark Horizons', distinctly different from each other. I retracted your rejection.--Dirk P Broer 19:23, 19 February 2021 (EST)
I didn't find two series when I looked. There was one with the two authors named and another by the same two authors without their names attached (now empty). There was also a magazine. What did I miss? I don't see the need for the authors' names. Bob 20:33, 19 February 2021 (EST)

It is to easier distinguish between the two. Now that plain 'Dark Horizons' is gone -I renamed it to 'Dark Horizons Magazine', the distinction is much more clear.--Dirk P Broer 08:35, 20 February 2021 (EST)

P.S. You are aware of this maintenance report? It shows the need for e.g. the authors' names.--Dirk P Broer 09:33, 20 February 2021 (EST)

I have worked on the cleanup report in the past. But I have to say, Dirk, after you changed the magazine series title (which I applaud), I really don't think the addition of the authors' names to the other "Dark Horizons" series was either needed or a good idea. Just my approach to things, KISS. Bob 12:04, 20 February 2021 (EST)
Hayes/Haynes
[6] should be Katherine Haynes, I think, since Haynes had essays and reviews in the same magazines. You verified all the magazines on Hayes' page so if you could check and change if necessary. --Username 10:06, 20 February 2021 (EST)
Well, I seem to be consistent. Thank you for catching these. All fixed. Bob 12:15, 20 February 2021 (EST)
Fritz Leiber
Doing a big cleanup of Midnight House books on ISFDB and Black Gondolier was PV'd by you. I changed the date since it clearly says 2000 on the copyright page and I added cover artist since Koszowski did covers for all Midnight House books. I also added cover artist to Smoke Ghost. --Username 08:26, 21 February 2021 (EST)
Thank you for adding the cover artist to both pubs. But the date on "The Black Gondolier & Other Stories" was always 2000 ever since Mike Hutchins entered it. Bob 09:28, 21 February 2021 (EST)
ISFDB date on the original Midnight House edition was 2001-06-00 until I saw a copy on Fantlab where it clearly says 2000, so I changed it. I see now that the overall title record, [7], still says 2001-06-00 so I'll have to change that, too. --Username 12:28, 21 February 2021 (EST)
If you look at the Midnight House edition edit history (see the upper right-hand corner on the page for that edition), the date on that volume was always 2000. I agree the date on the story is wrong (what you call the overall title record), but the date on the Midnight House edition was correct since at least 2011 when Hutchins entered the cover scan, and since there are no earlier edits, it must have been entered correctly originally. If you look at your own edit there, you entered the same date as already existed on the pub (as well as the cover artist). Bob 13:26, 21 February 2021 (EST)
Ec'h-Pi-El Speaks
Hi Bob We appear to have two publication records for the De La Ree publication of Ec'h-Pi-El Speaks. There's this one secondarily verified by Michael and this one, which you have primarily verified. I'm not sure of the best way to harmonize these two records. First you have the authors as Lovecraft and De La Ree whereas the other copy has Lovecraft alone. Could you verify whether De La Ree is credited as an author on the title page? Secondly, you have a magazine format on your copy. I think "ph" is probably more appropriate here. Lastly, I just want to verify that the subtitle, "An Autobiographical Sketch by H. P. Lovecraft", appears on the title page. If so, we should probably standardize it with a colon instead of an ellipses (unless the ellipses is part of the title or subtitle). I think easiest way to combine the two publications is to let your pub record serve for the paper edition once we clear up the discrepancies. Then we can merge the two title record. We can then adjust the record with Michael's verification to stand for one of the limited editions. That way, we won't need to move any verifications. Let me know what you think about the differences. Thanks. --Ron ~ RtraceTalk 19:08, 21 February 2021 (EST)
I remember this pub clearly, but after half an hour, I haven't been able to find it. I'll keep looking. The problem is I don't collect material by Lovecraft, so it isn't obvious where to look. I'm sure I'll eventually track it down. Bob 19:55, 21 February 2021 (EST)

I finally found it with other Finlay artwork. There is no author cited on the title page, only credit to Virgil Finlay for the artwork. I added de la Ree's name as an author because he wrote the Preface and he was obviously the editor. The subtitle is included on the title page; I've changed the ellipses to a colon. I have no problem with "ph"; I used magazine because of the size of the pub (10-3/4" x 8-3/8"), larger than other de la Ree pubs. The information on other editions of the pub was not included in my edition. Please make whatever changes/merges you want, let me know. Bob 16:47, 22 February 2021 (EST)

Cool. I found it in Chalker/Owings and added the price, and a note about this being the first publication. I also took De La Ree off as author. We wouldn't have added him as editor even were he credited since this is really a publication of the autobiographical essay. I imported the essay from the other publication and removed the note about its being untitled. I think it can take the title from the book, which is how Michael entered it in the other pub record. I've also added a note about the editions. Finally when I got into it, I noticed the Talman artwork that you had listed on "ibc". I assume that stands for inside back cover and I changed it to the standard "bep" which should sort it to the correct place. If I misunderstood, please change it back. Now on to alter the other record to make it the hardcover edition. Thanks again for your help. --Ron ~ RtraceTalk 21:38, 22 February 2021 (EST)

Looks good to me. Bob 08:48, 23 February 2021 (EST)
The World Menders
Added price (from my unclipped edition) and notes to this --Mavmaramis 07:53, 23 February 2021 (EST)
Thank you. I took out the "price clipped" statement. Bob 08:44, 23 February 2021 (EST)

I ameded the note so it was clear that your verified copy was price clipped. My copy's dustwrapper was a tad distressed - I did did a somewhat hasty edit in photoshop with a black paintbrush before (rather than after) making adjustments in photoshop. --Mavmaramis 13:22, 23 February 2021 (EST)
R. P. McCosker vs R. P. McCasker
Hi, Since you are the primary and sole verifier of the 'All Hallows' issues 30-36, I'd like to ask you if you can check if my gut feelings are true: that R. P. McCosker and R. P. McCasker are one and the same person. R. P. McCosker has four reviews in All Hallows: #30 (2002), #33 (2003), #36 (2004, 2x), and a letter in #32 (2003) (then as by Randy McCosker), R. P. McCasker has five reviews in All Hallows: #30 (2002), #31 (2002) and #34 (2003, 3x). The names and activities in the same magazine are too alike to me to be just a coincidence.--Dirk P Broer 10:25, 23 February 2021 (EST)
Right you are, Dirk. All McCosker. Fixed. Thanks. Bob 16:33, 23 February 2021 (EST)
Leinster's The Last Space Ship
Hi Bob
We have two publication records for the Fell edition of The Last Space Ship, one of which you've verified. That record has a note that there is no stated publication date. The other record notes a stated publication date of November 1949. Happily, I also found a scan that verifies the date appears on the copyright page. Could you double check that your copy doesn't have a stated date. If so, I think we should probably change that publication to an unknown date and move the many of the secondary verifications to the other copy. I'm happy to handle that. I'm also checking with Ahasuerus as he has also verified the copy. Of course, if both your copies actually have the publication date, we just need to combine the two records. Thanks for checking. --Ron ~ RtraceTalk 09:27, 28 February 2021 (EST)
Interesting. Apparently, my copy is NOT a first printing because the declaration that Currey cites does not appear on the copyright page, only the copyright date and the designer's name. I've changed the date of publication and added a note to indicate that it's a later printing. Thanks for noticing this. Bob 11:03, 28 February 2021 (EST)
Looks good, thanks! Ahasuerus 12:05, 28 February 2021 (EST)
A Knight of the Seven Kingdoms
Please see this edit I'm holding that impacts your verified pub. Please let me know how to handle. -- JLaTondre (talk) 17:31, 4 March 2021 (EST)
The editor is correct. I had scanned the cover, but forgot to upload it. I've now done so. Reject the edit and explain what I've done. Bob 09:55, 5 March 2021 (EST)
Roden
These two entries, [8], should be by "Christopher" like all his other work on ISFDB, yes? --Username 19:06, 5 March 2021 (EST)
Fixed. Thanks for noticing. Bob 19:31, 5 March 2021 (EST)
A cidade inteira dorme e outros contos
Hi Bob,
Just a gentle reminder - please check the external IDs when you approve submissions like this one - and it is even more important for new editors (Paulotecario had been on the site for only 6 days at this point). Both external IDs lead to the kindle version of the book - so they should have been removed and the editor advised that we need both versions separately.
In addition:
a quick check on Amazon Brazil based on ISBN shows that the format is tp and not pb (20.6 cm).
we cannot have Synopsis in Portuguese.
I know it had been more than a month ago but I just found the cluster of these and am in the process of fixing them so figured I will stop by and post a reminder. Thanks! Annie 18:05, 11 March 2021 (EST)
Blush! It really was kind of obvious. Sorry. Bob 18:20, 11 March 2021 (EST)
The Body Shop
[9] shows 1973. --Username 18:41, 12 March 2021 (EST)
Looks like 2014 to me. Bob 20:14, 12 March 2021 (EST)
From the cover: Debut...America...1973. The book's obviously been reprinted many times over the years but its original pub. date was 1973, not 1970 as stated on ISFDB. Anybody who can find info on the reprint editions can enter those, too. Maybe somebody more familiar with these "adult" novels should take a look at this, but it seems unnecessary since it clearly says 1973 on the cover. I have a thousand other things I can be working on here so if nobody cares about this I'll just move on to something else. --Username 22:06, 12 March 2021 (EST)
Fair enough, now I see. Bob 23:32, 12 March 2021 (EST)

This book (link) has a Reginald1 verification - so the year most likely comes from there. Does not mean it is not wrong but if it is, we need to document it properly. Does one of you two want to talk to Rtrace about that (as he has Reginald1 available) to see if the problem is in Reginald or in the copying from there to here and how we want to proceed? Or should I talk to him? Just changing the year will make nonsense of the verification - we will need to clarify why the data is different. Won't be the first time R1 has a typo... :) Annie 15:48, 15 March 2021 (EDT)

I sent the question to Ron. Bob 16:14, 15 March 2021 (EDT)

Thanks Bob! :) Annie 16:15, 15 March 2021 (EDT)

The date in Reginald1 is 1970 for the Cameo Editions publication. I don't think I was able to find it in Worldcat, which is why that verification is left blank. --Ron ~ RtraceTalk 17:43, 15 March 2021 (EDT)

So do we go by Reginald1 or by the cover that someone reused for an ebook so we can see it? In both cases we need to add a note explaining the discrepancy, we just need to decide what we use in the date field :) Annie 17:47, 15 March 2021 (EDT)
I think we need to stick with the 1970. Is Cameo Editions a U.S. publisher? I think it's an imprint of Grosset & Dunlap, so no help there. We could add a note about the date on the cover. I trust the publishers of the foreign copy less than Reginald1. Bob 17:57, 15 March 2021 (EDT)
Considering the cover, it looks like a US one to me... in which case the cover is from the publisher themselves. I will see if I can do some more digging. In the meantime, I updated the note to show all we know - see the book. As usual - if someone wants to edit and add more info, go ahead :) Thanks guys! :) Annie 18:09, 15 March 2021 (EDT)
DeFeo
I changed Michal DeFeo to Michael DeFeo here: [10]. --Username 17:25, 17 March 2021 (EDT)
Cool! Bob 17:27, 17 March 2021 (EDT)
Dead River Revenge (Part 2 of 2)
Please see this edit which impacts your verified pub. It looks like a database typo, but please check. Thanks. -- JLaTondre (talk) 19:00, 23 March 2021 (EDT)
No question, another one of my many typos. Bob 19:04, 23 March 2021 (EDT)
Richard E. Geis—A Personal Journal #12
Hello,
Can you either approve or kill this one? Looks like a non-cancelled early variant of this so you probably need to just kill it :) Thanks! Annie 21:14, 23 March 2021 (EDT)
Done. Haven't looked at the Moderator list for a while, too many magazines to enter coupled with computer problems. Thanks for the heads up. Bob 22:33, 23 March 2021 (EDT)
The Storm Crow
Please look at this record from your verified pub. It has an interior art credit of Tommy Arnold varianted to a cover art credit of Tran Nguyen. Is this a database error or did Spectrum 27 misscredit the artwork. If the latter, the credit should be changed to "Tommy Arnold (in error)". Thanks. -- JLaTondre (talk) 08:47, 27 March 2021 (EDT)
I screwed up. The artwork is on a page facing the cover art for "Harrow the Ninth" by Tommy Arnold, and I just credited him for both pieces of art. Fixed. Bob 12:14, 27 March 2021 (EDT)
Possible Typos
Here are some possible database typos:
If you could please check and correct or add title notes, it would be appreciated. -- JLaTondre (talk) 09:02, 28 March 2021 (EDT)
All corrected. Bob 10:36, 28 March 2021 (EDT)
Price of Etchings in Ivory
Bob - I just added some secondary verifications to Etchings in Ivory. Contento has a different price than the one we have. There's a note stating the price is from your records. I've added a note about the discrepancy. It may be worth another look at your records since it's off by so much. Thanks for checking. --Ron ~ RtraceTalk 21:44, 29 March 2021 (EDT)
Leiber Book's Price
[11] was PV'd by you, but this, https://fantlab.ru/edition219771, has a photo of the front flap with a different price, £2.25. Do you have one that says £2.50 or was it a mistake and should be fixed? --Username 18:48, 30 March 2021 (EDT)
Another of my many typos. Fixed. Bob 20:01, 30 March 2021 (EDT)
Time and Stars
Bob- Are you verifying the first edition of Time and Stars? You are attributing "First Edition" statement to Currey. My copy has no first edition statement , it has a print code F 11 [March 1964]. if it is the same as yours, I will update otherwise I will clone. Thanks for your attention. John Scifibones 11:53, 9 April 2021 (EDT)
I didn't enter the Currey attribution, so I went and checked Currey. He does indeed say that "First Edition" appears on the copyright page. I then checked my copy, and it does have "First Edition" below "Printed in the United States of America" on the copyright page. The gutter code on my book is E47, November 1963. Your copy must be a later printing, and should be entered as such. I'll add the gutter code to my verified copy. Bob 12:18, 9 April 2021 (EDT)

Thanks for the timely response. I had it coded wrong in my database, I have the book club edition, sorry Scifibones 12:21, 9 April 2021 (EDT)
Non-genre
There's another edition, [12]. --Username 14:21, 10 April 2021 (EDT)
The 1974 Nebula Award Nominees
Please see this edit which impacts your verified pub. The change in type seems correct, but let me know if the spelling of Harlan Ellison's name is a database type or pub typo. Thanks. -- JLaTondre (talk) 11:35, 11 April 2021 (EDT)
My mistake. As usual. Bob 14:47, 11 April 2021 (EDT)
Azazel
Added pub notes and corrected OCLC and LCCN, somehow they were switched Azazel Scifibones 16:27, 12 April 2021 (EDT)
Weird! Thanks. Bob 17:54, 12 April 2021 (EDT)

The problem started when they were both added as OCLC by mistake here and then my fault when I untangled what is what and apparently switched them around even though I realized one of them is actually LCCN. Sorry :) The big external IDs moving and shifting project was bound to have weird errors here and there... Annie 18:13, 12 April 2021 (EDT)
Letter to The Bulletin of the Science Fiction Writers of America, June 1967
Hi Bob,
All of the essays with the above mentioned title in your verified had a trailing ")" at the end of the title. As there are no notes indicating that oddity, I assumed a typo and just cleared them. If they indeed have that trailing ), I will be happy to add them back. Annie 21:40, 14 April 2021 (EDT)
My typos. Do it once, then copy for the rest. Thanks for fixing them. Bob 22:20, 14 April 2021 (EDT)
Darwin's Radio
Added pub notes and removed jacket designer from Coverart credit can for Darwin's Radio Scifibones 15:07, 16 April 2021 (EDT) User_talk:Biomassbob/Archive/Aug2020-Apr2021