ISFDB:Verification requests/Archive 11
Jump to navigation
Jump to search
This is an archive page for the Verification requests page. Please do not edit the contents. To start a new discussion, please click here.
This archive includes discussions from January 2021 - December 2023.
 
Unlike earlier archives, this page will contain requests/issues which have not been resolved. Please do not respond to requests on this page or add new requests to this page. If you're able to respond to any of these requests/issues, please post it on the talk page of the editor who made the original request. If the editor is no longer active, you can post a response on the ISFDB:Community Portal.
John Wyndham
The John Wyndham story Pawley's Peepholes aka Operation Peep would appear to have a further variant title in that it was published in Argosy (UK) August 1954 as A New Kind Of Pink Elephant. Could this be verified and the record updated please?
ash
Hi, and thanks for the hint. However, do you have a source for this at hand (because it is quite difficult to verify something without it). Thanks, Stonecreek 09:16, 5 January 2021 (EST)

FictionMags Index shows it. We don't have that issue (which also has a Bradbury story) so it will need to be added. FMI also shows SF stories in several other Argosy issues that we don't have. I will add them all later today unless someone beats me to it. -- JLaTondre (talk) 13:14, 5 January 2021 (EST)
Monks
I'm going to merge Joseph M. Monks with Joe Monks and Joseph Monks. This, https://archive.org/stream/Bones_of_the_Children_01_1996/Bones_of_the_Children_01_1996_djvu.txt, gives all 3 ways of spelling his name found on ISFDB. Joseph Monks has 1 story which is also in the collection that's under the Joseph M. Monks name, and Joe Monks has a story and essay from Agony in Black which is where Joseph M. Monks also published his first story. Another winner from--Username 00:26, 24 January 2021 (EST)
Ariel: The Book of Fantasy, Volume Three
I have a copy of this but my copy has a UK price £3.95 orinted ion the back cover. The only other PV is Mhhutchins who is inactive. Is anyone able to find out if all versions of this publication had a UK price ? --Mavmaramis 01:35, 9 February 2021 (EST)
Dangerous Visions
I picked up a copy of this and note that it states gutter codes are printed on page 544. My copy definately has "Book Club Edition" at bottom of front flap and the number 1179 on the rear flap but alas page 544 has no code at all. Is there anywhere else within the book a gutter code might have been printed ? --Mavmaramis 15:04, 21 April 2021 (EDT)
The Terminal Man book club edition
Anyone able to help with a release date for The Terminal Man. John Scifibones 14:12, 24 May 2021 (EDT)
Katherine McLean Missing Man
Hello. Could anyone tell me about this book. This Orbit edition doesn't appear in the listing so I have no clue what the ISBN is and the internet is no help. --Mavmaramis 17:17, 25 June 2021 (EDT)
It probably does not exist. There are other cases, such as Peter Jones' cover for "Phoenix Without Ashes". Cover art is requested, but the publication somehow does not make it to the printer. Horzel 05:54, 17 June 2022 (EDT)
Terry Bisson / "Planet of Mystery" on Locus Index to Science Fiction CD ROM?
Does anyone have access to the Locus Index to Science Fiction 1984 - 2008 CD ROM who can check a couple of 2008 publications verified against Locus1? See Terry Bisson / Planet of Mystery on the Moderator Noticeboard. Thanks. --MartyD 13:52, 7 February 2022 (EST)
"Nice Girl with Five Husbands" by Fritz Leiber
Hello. I am reading a scan of the April 1951 Galaxy, and I see that the title of Leiber's story on both the table of contents and the title page is "Nice Girl with 5 Husbands". However, the multi-verified listing of the Galaxy issue has the story (and the associated illustrations) as "Nice Girl with Five Husbands". I don't know how to submit a fix for this situation: The title should have the digit 5 rather than the word Five.
Might someone be able to submit the fix or tell me how to do so. I have posted images of the scans at ittdb.com. You may also view it at archive.org. But maybe I have misunderstood the situation. Thanks.
--Michael Main 16:18, 25 April 2022 (EDT)
Michael Main, thanks for finding this.Dave888 18:12, 25 April 2022 (EDT)
Good catch. Double checked my copy of "The Pail of Air" collection and the number is spelled out in that edition.--swfritter 19:06, 25 April 2022 (EDT)
Thanks for your quick responses, everyone! --Michael Main 19:16, 25 April 2022 (EDT)
Signature ID
Can anyone identify this signature?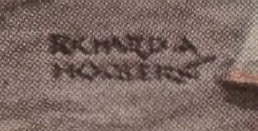 Thanks!--Rosab618 01:58, 12 August 2022 (EDT)
It's "Richard A. something". What is the title it's from? ···日本穣 · 投稿 · Talk to Nihonjoe 12:55, 12 August 2022 (EDT)

The Radio Detectives Under the Sea. For the last name, I've tried "Hockers", "Hockerst", "Hocherst", etc. But no luck.--Rosab618 13:02, 12 August 2022 (EDT)

It's Richard A. Holberg; he did art for another Appleton book in the same time period, http://www.horatioalgersociety.net/newsboys/newsboys2000-2009/nb2002-03mar-apr.pdf. Also, I added the Archive.org link to Verrill's book and raised the page count by 1 because last page is unnumbered (edit awaiting approval). --Username 13:29, 12 August 2022 (EDT)

Good eye, Username. ···日本穣 · 投稿 · Talk to Nihonjoe 15:01, 12 August 2022 (EDT)

A good find, indeed! --Rosab618 17:24, 13 August 2022 (EDT)
Signature identification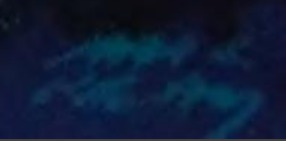 Back cover signature from A Book of Boys' Stories. It doesn't appear to be the signature of Pat Nevin, the interior artist. --Auric (talk) 06:51, 22 September 2022 (EDT)
The art style of the interior images is different, too. I agree it's likely someone else. However, this image (and the one visible on the Internet Archive; you'll have to borrow the book in order to see the back cover) aren't very clear. ···日本穣 · 投稿 · Talk to Nihonjoe 19:44, 4 October 2022 (EDT)