User talk:Pugno
Jump to navigation
Jump to search
Welcome!
Hello, Pugno, and welcome to the ISFDB Wiki! I hope you like the place and decide to stay. Here are some pages that you might find helpful:
Note: Image uploading isn't entirely automated. You're uploading the files to the wiki which will then have to be linked to the database by editing the publication record.
Please be careful in editing publications that have been primary verified by other editors. See Help:How to verify data#Making changes to verified pubs. But if you have a copy of an unverified publication, verifying it can be quite helpful. See Help:How to verify data for detailed information.
I hope you enjoy editing here! Please sign your name on talk pages using four tildes (~~~~); this will insert your name and the date. If you need help, check out the community portal, or ask me on my talk page. Again, welcome!Kraang 02:20, 21 May 2009 (UTC)
Email removed
I believe your intent was to remove the email address[1], so I deleted the "not disclosed" and left it blank.Kraang 02:20, 21 May 2009 (UTC)
Histórias Extraordinárias
Hello. I've accepted your submission, but made the following changes to conform to our guidelines concerning magazine entries:
added date to titles - see bullet point Magazines here
uploaded cover
added note
updated EDITOR title
added series name to EDITOR title, moved note on magazine & URL to series record, no series number needed
The result is here.
Some questions:
Does the title of HE Recomenda really include Short reviews of ... as part of the title? If not, that should go into the notes field of the HE Recomenda title record instead.
Can you measure and provide me with the exact dimensions of the magazine?
Page count: for magazines we include front and back cover - can you confirm that the total number of pages, including front and back, is 40 pages?
You can reply by pressing the small edit to the right of this message's title. I will be monitoring your talk page for a reply. Also, do read through the information provided in the welcome message above. If you intend to contribute more, it is a helpful resource to get started. Regards, MagicUnk 05:56, 1 September 2022 (EDT)
Hello and thanks. I have 4 more magazines to add, but I wanted to add just the first to see what should be changed, so I can add the rest accordingly.
Ok, so here are the answers and a few questions :)
1) Regarding the HE Recomenda: The title of the section is the same for all issues, it means "Histórias Extraordinárias Recommends". In the 1st issue, There are short reviews of the movies and series, but there is not an actual title, just the names of the movies and series and a short text for each one. In the following issues, the section "HE Recomenda" has titles, like "Personality: Presenting Ted Chiang", "Series: 'The Expanse'", "Literature: 'The Anomaly'", "Series: 'Severance'", etc. Please advise on the right way to include this section of the magazine. :)

My recommendation would be to add the title HE Recomenda (Histórias Extraordinárias, Dezembro 2020) to each issue. Repeating the magazine title between () is for disambiguation purposes - doing it like that will prevent an (accidental) merge of identical titles. At a later stage, and if you would wish to do so, it is then possible to add a title series name to these title records, like what has been done for Ansible Link in Interzone.
In addition, mention the details in the notes field. You could add, for example, following info into the notes: HE Recomenda contains the following sections: Short reviews of "Captive State" (movie), "The Vast of Night" (movie) and "Lovecraft Country" (Series)
2) The magazine measures 21x28 cm. I used what seemed to be the closest match.

Quarto might be the better choice. But since there's not much difference, bedsheet is fine afaik. What you can do is mention the exact dimensions in the notes field. That will allow anyone that comes after you to update the format to a better choice, if it would ever be needed. MagicUnk 08:47, 2 September 2022 (EDT)
3) The magazine has 40 pages in total. Page numbering in the physical magazine considers the cover as page 1.

OK MagicUnk 08:47, 2 September 2022 (EDT)
Now, my turn to ask a few questions :)
a) "Carta aos Leitores" (in page 5) means "Letter to our Readers" and is an editorial - present in every issue. Is it OK to include it as I did? It will be present for all issues.

yes, that's OK MagicUnk 08:47, 2 September 2022 (EDT)
b) Issue 1 of the magazine was released in december 2020. "Dezembro 2020" just means "december 2020" in Portuguese. Is it necessary to include the "Dezembro 2020" as part of the title and the number of the issue as a note?
c) In some issues, the interior artwork for a short story is repeated at the end (reduced, or just part of it). Should it be indicated again even if it is essentially the same from the beginning?

Only if it is your intention to be all-inclusive, then yes, that could be repeated. Contents records with the same title can be disambiguated, eg by adding [2], [3], etc... after the title name. Note that if interior artwork is not directly associated with a story, then a common way of doing that is to enter the magazine name with type INTERIORART. See this example of how it's done (scroll down to the bottom). MagicUnk 08:47, 2 September 2022 (EDT)
Thanks for your support! - Pugno 22:02, 1 September 2022 (EDT)
---
Just FYI, I submitted the data for three more magazines. The latest number is due to arrive in a few days and I will submit data for it as well. Pugno 12:21, 5 September 2022 (EDT)
Histórias Extraordinárias, Abril 2021
I approved your submission adding this issue of Histórias Extraordinárias. Question regarding Causa ou Efeito [2] and Elo [2]. In light of your question in the previous thread, are these repeats or a different illustration within the stories. If they are different illustrations no changes necessary. If they are repeats, make the duplicate a variant of the first and add an explanation. Here is an example. John Scifibones 18:41, 7 September 2022 (EDT)
Same for Agosto 2021 and Dezembro 2021. John Scifibones 18:50, 7 September 2022 (EDT)
Thanks for the heads-up. Yes, the illustrations marked as [2] are repeats derived from the original ones that are placed at the beginning of the short stories (usually a blown-up part). I marked the illustrations marked with a [2] as variants. Please advise if it is ok so I can do the same for the other issues of the magazine as well. Thanks! Pugno (talk) 15:19, 8 September 2022 (EDT)
Variants approved. Notice how I moved your explanation to the variant's note field. Now the purpose of the variant is clear. John Scifibones 15:57, 8 September 2022 (EDT)
Thanks again, I will therefore do the same for the rest of the magazines. One question, though: when accessing the page here, the April 2021 issue is not listed; however, when viewing it as a grid, it is present. Also, when clicking on the name of the editors here and here, this same issue is also missing. Could you please verify what could be wrong? Thanks a lot! Pugno (talk) 16:04, 8 September 2022 (EDT)
We consolidate all the individual issues by editor and year. This keeps the editor's bibliography page neater. Click on any of the title links here and you will see the individual issues. There are two titles for 2021 because of the different editorial credits. John Joseph Adams is a long-time editor of periodicals. His page would have lengthy lists of publications if we didn't group them. John Scifibones 16:24, 8 September 2022 (EDT)
I see the submissions to link the variants to their parent titles. Don't forget the explanation in each child title as I did above. John Scifibones 16:50, 8 September 2022 (EDT)
(unindent) You still need to link the cover scans to the publication records.
Here is the image you uploaded for Abril 2021. Right click on the image and choose 'Copy Image Link'
Go to Histórias Extraordinárias, Abril 2021 and edit the publication. Paste the link into the 'Image URL;' field.
Repeat for the other two publications. I have deleted the duplicate you uploaded for 'Histórias Extraordinárias, Abril 2021'. Detailed help can be found here. Let me know if anything is unclear, John Scifibones 20:13, 10 September 2022 (EDT)
No thanks necessary, I'm always willing to help. P.S. Don't forget to sign your posts, I took care of your last one. John Scifibones 10:52, 12 September 2022 (EDT)
Latinoamericæditada No Disponible en Su Región
I'm holding this submission. Our standards require us to credit the work as shown on the title page. What does it say? John Scifibones 11:43, 6 February 2023 (EST)
Hello, the book contains a page where it shows "In this edition have worked: (list of people provided in the original submission)". However, it also shows, on top: "An anthology of no-centralized edition organized by ALCIFF" (ALCIFF stands for "Chilean Science Fiction and Fantasy Literature Association" - https://alciff.cl/ )
I was contacted by Mr. Cristóbal V. de la Cuadra (main organizer) and he explained me that since this is an anthology of short stories from each country of Latin America (2 short stories plus an essay for each), the actual editors are the people who selected the stories in each country (hence the "no-centralized edition" mentioned above). So the actual editors are the people who selected the stories and wrote the essays detailing SF status in each country plus Mr. de la Cuadra as main organizer.
He explained to me that the text "in this edition have worked..." lists people who have helped in correcting typos, occasional grammar errors, etc. and are not the actual editors. So it was my mistake and I was misled to believe those people were to be credited as editors. Please refer to the attached photo of this front page.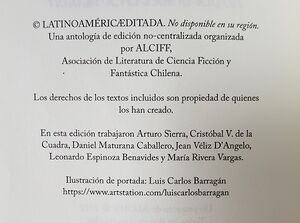 In short, it was my error during original submission and now I ask for the replacement of the information for the correct one.
I hope it is clear. Let me know if you need further information.
Thanks for the explanation. John Scifibones 10:16, 7 February 2023 (EST)